Apr 29, 2020
Heroes on the front line: Dr. Michael Kiernan
Around the world, health care providers are on the front line of the battle against the coronavirus.
Many are struggling not only to treat a disease with no known treatment, one to which no human has natural immunity. They are also facing an unprecedented global shortage of the masks, gowns and gloves known as personal protective equipment, due to international manufacturing shortfalls in the face of the pandemic. That equipment is essential to preventing health care workers from getting infected themselves and from passing the virus to patients and to their own family members.
Doctors and nurses and physician assistants and other health care workers sign up to work long hours, nights and weeks, away from their families. But never in our lifetime have they been asked to put their own health and their loved ones' health at such risk.
At Coverage, we are giving Massachusetts doctors, nurses, PAs and NPs a chance to speak to you, our readers, in their own words. We asked that they share their simplest, most urgent messages as they fight this new virus with no vaccine and no cure, a virus vulnerable only to our common human bravery, ingenuity and compassion.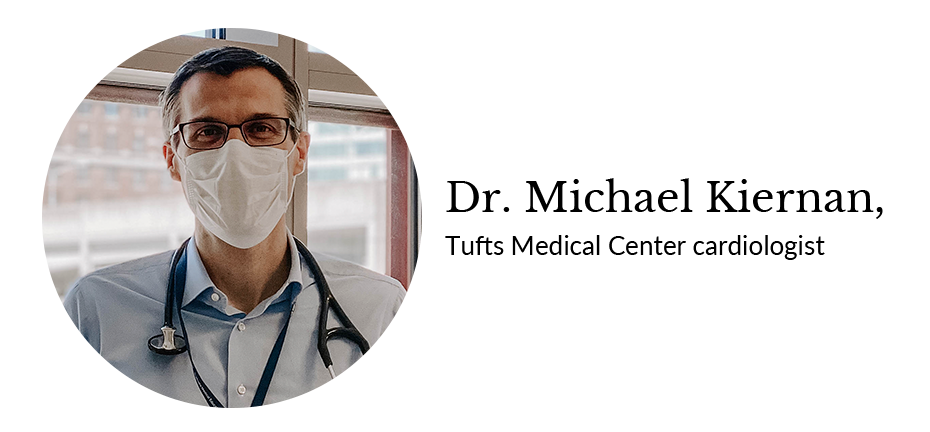 It's nothing any of us have ever seen before in medicine. Close to 100% of patients in the ICU require ventilators. Many of the people involved in caring for the patients may have risk factors. It's just really a show of selflessness – these nurses spend hours at the bedside caring for their patients. It's terrifying for both the patients and their families. Many physicians are self-isolating from their own families. I tried to do that, but it was emotionally impossible for me to do. My kids need that physical contact, and frankly, so do I. it's the only way to get through this. I'm lucky, I have a job that allows me to contribute in a small way. There are so many people suffering and hurting. We are in an unprecedented time, essentially making up the playbook as we go along. We are very fortunate in Massachusetts at the local level to have leaders who have led with clarity, calm, conviction, strength and transparency. That strength is essential as we continue to fight this pandemic.
- Dr. Michael Kiernan, 
Cardiologist
Medical director of the Ventricular Assist Device Program at Tufts Medical Center
Temporarily reassigned to work in the COVID ICU
Father of a 7-year-old and a 10-year-old
More in the "Heroes on the front line" series: