Apr 27, 2020
Heroes on the front line: Maureen Plunkett
Around the world, health care providers are on the front line of the battle against the coronavirus.
Many are struggling not only to treat a disease with no known treatment, one to which no human has natural immunity. They are also facing an unprecedented global shortage of the masks, gowns and gloves known as personal protective equipment, due to international manufacturing shortfalls in the face of the pandemic. That equipment is essential to preventing health care workers from getting infected themselves and from passing the virus to patients and to their own family members.
Doctors and nurses and physician assistants and other health care workers sign up to work long hours, nights and weeks, away from their families. But never in our lifetime have they been asked to put their own health and their loved ones' health at such risk.
At Coverage, we are giving Massachusetts doctors, nurses, PAs and NPs a chance to speak to you, our readers, in their own words. We asked that they share their simplest, most urgent messages as they fight this new virus with no vaccine and no cure, a virus vulnerable only to our common human bravery, ingenuity and compassion.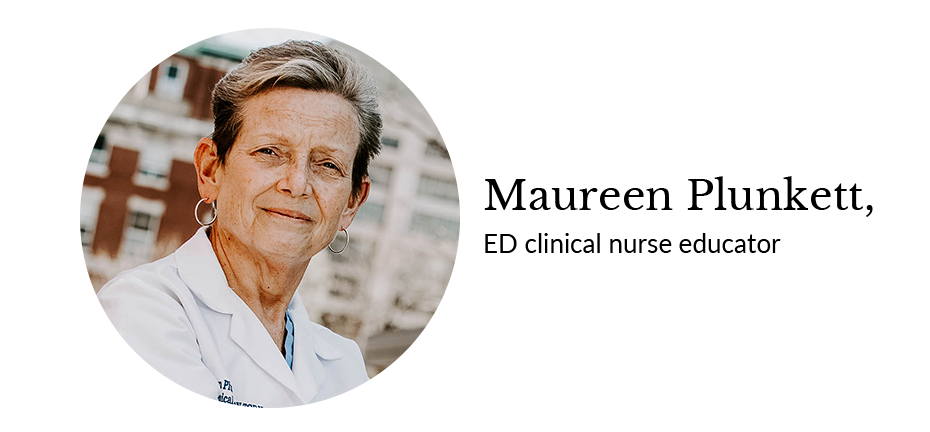 We have people here working nonstop. All the nurses are really watching out for each other. We want to make sure we're on our clinical game, but then we have the challenges of leaving and going home – making sure we're not exposing our own family members. We're even social distancing at home. My husband and son and I sit on opposite ends of the sectional while we watch TV in the den. There's a lot of commitment among nurses, always wanting to provide good care, but there's always a back-burner worry for our families. Every day there are new challenges, new changes, new recommendations. I can honestly say I don't really even have down time when I go home – I'm always connected, checking in, making sure the staff are ok. We have a lot of new nurses and new graduates. I feel like the best way to reassure them is by being present in the department, listening to them. We're all in it to win it. Driving into work and seeing the billboards thanking health care workers, it's very gratifying. The best way to thank health care workers is just by staying home and taking it seriously.
- Maureen Plunkett
Emergency department clinical nurse educator
at Boston Medical Center 
Wife and mother of two, with 33 years of experience in nursing
More in the "Heroes on the front line" series:
Are you a health care worker who would like to share your thoughts with Coverage? Contact us. 
PHOTO OF MAUREEN PLUNKETT BY MICHAEL GRIMMETT