Jun 5, 2020
Heroes on the front line: Maggie Beiser
Around the world, health care providers are on the front line of the battle against the coronavirus.
They are struggling to treat a disease with no known treatment, one to which no human has natural immunity.
At Coverage, we are giving Massachusetts doctors, nurses, NPs, PAs and other hospital workers a chance to speak to you, our readers, in their own words. We asked that they share their simplest, most urgent lessons and messages as they face this new virus with no vaccine and no cure, a virus vulnerable only to our common human bravery, ingenuity and compassion.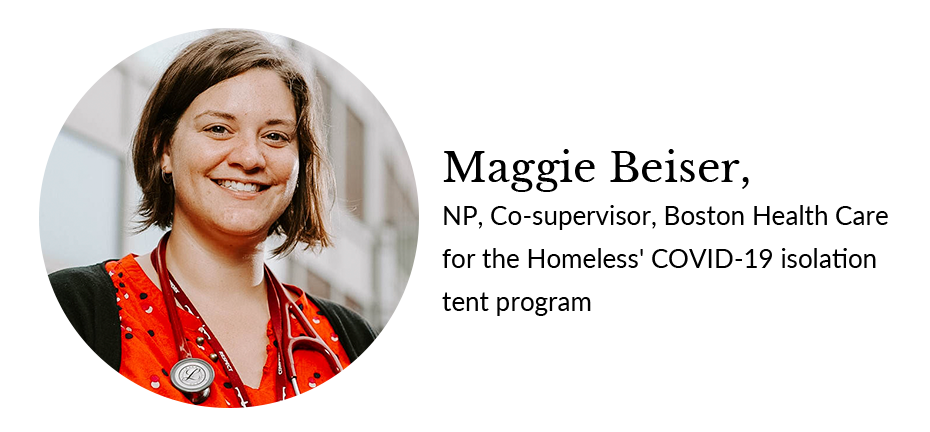 One of the things that has been so impressive about Boston Health Care for the Homeless Program's leaders is how they've taken down the walls of our normal day-to-day work structure and said, 'How can we be creative? How can we respond to needs we don't even know we have yet?' We erected isolation and quarantine tents, created clinical programs for COVID+ patients from scratch, are co-leading the effort to test guests at the city's main shelters, and have switched to telehealth for some of our regular clinical services. Nobody ever says, 'we can't do this.' And even though we have 50 balls in the air, our leadership has kept all of us informed about everything that's happening.
- Maggie Beiser, NP
Director of hepatitis C services, now co-supervising Boston Health Care for the Homeless' isolation tent program 
More in the "Heroes on the front line" series:
Director of Environmental Services and Patient Transportation
Beth Israel Deaconess Hospital - Milton