Apr 7, 2021
Heroes on the front line: Michelle Woodward
This year, health care workers have been confronting an emergency like no other, the battle against the coronavirus.
They are struggling to treat a disease with no known treatment, one to which no human has natural immunity.
At Coverage, we are grateful for Massachusetts doctors, nurses, NPs, PAs and other hospital workers.
And for the past year, we have been giving them a chance to speak to you, our readers, in their own words. We asked that they share their most urgent messages as they face this new virus — and as, finally, they get vaccinated.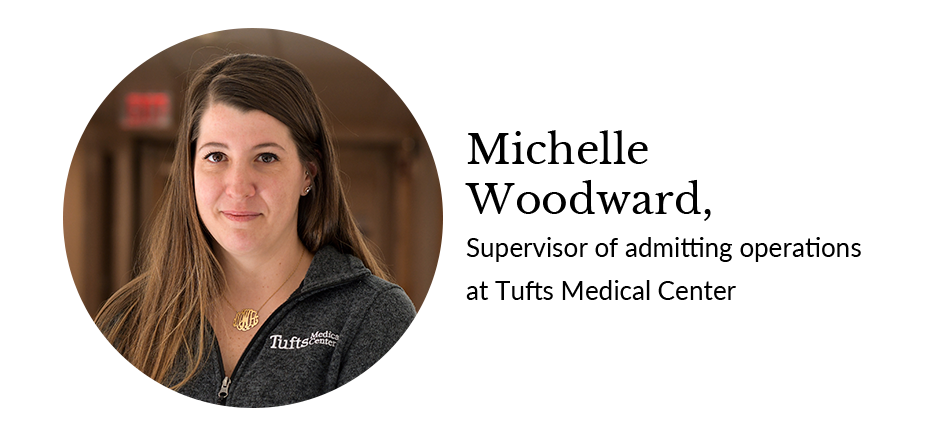 I was definitely planning to get the vaccine from the beginning, but I had questions because I had a 5-month-old who I was nursing. It turned out that didn't matter — my doctors said the shot was safe. I got my first dose of the Pfizer vaccine on Dec. 18. I was very grateful to be able to do it as early as I was. It was just one step I could take to make myself feel more comfortable coming home to my family every day. Last year, I was working in the testing site while I was pregnant. It was stressful and nerve-racking being in there with potentially sick people. 
It's been really hard not to be able to see extended family. I was pregnant and then I had my baby, and my parents were worried about exposing me, but the people around me were more at risk because I worked at the hospital. As people continue to get vaccinated, we're really excited to be able to be around my mom and dad without worrying. Since she was born at the height of the pandemic, my daughter is nervous around even family members because she hasn't been able to spend much time around them. It'll be really nice for her to finally get to know them. 
Michelle Woodward, supervisor of admitting operations at Tufts Medical Center

Read more in the "Heroes on the front line" series

---
Are you a health care worker who would like to share your thoughts with Coverage? Contact us. 
---
PHOTOS BY FAITH NINIVAGGI