Jan 12, 2021
How to protect yourself from vaccine fraud schemes
Fraud experts and law enforcement are providing key tips to protect the public as scammers seek to take advantage of the rollout of COVID-19 vaccines.
"Within hours of a Massachusetts vaccination registration website going live, scammers set up fake websites mimicking the official site," said Jennifer Stewart, senior director for fraud investigation and prevention at Blue Cross Blue Shield of Massachusetts. "These scammers aim to to collect money directly from you. They may try to charge you to give you early access to a vaccine. Or they may be seeking your health insurance information, which they can use for their schemes or sell on the dark web."
Stewart notes the tremendous market for vaccines provides fertile ground for criminals.
"There is such a pent-up demand for the vaccine and the roll-out is going to be limited for awhile because of manufacturing capability -- it just provides an environment ripe for fraud," she said.
Federal authorities are taking note.
---
"If you get a call, text, email — or even someone knocking on your door — claiming they can get you early access to the vaccine, STOP," the Federal Trade Commission warns in a recent bulletin. "That's a scam."
---
While health care providers may reach out when an individual is eligible to be vaccinated, they are not going to reach out unsolicited offering early access to the vaccine while making requests for payments or soliciting personal health insurance and financial information, Stewart stressed.
Massachusetts Attorney General Maura Healey urges consumer to be on the lookout for four types of schemes: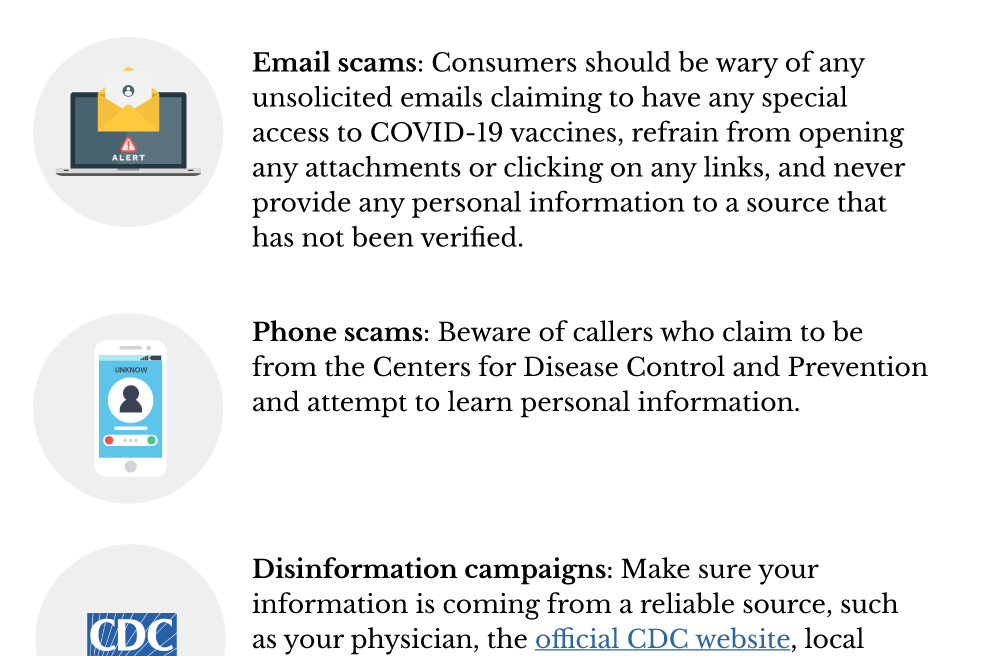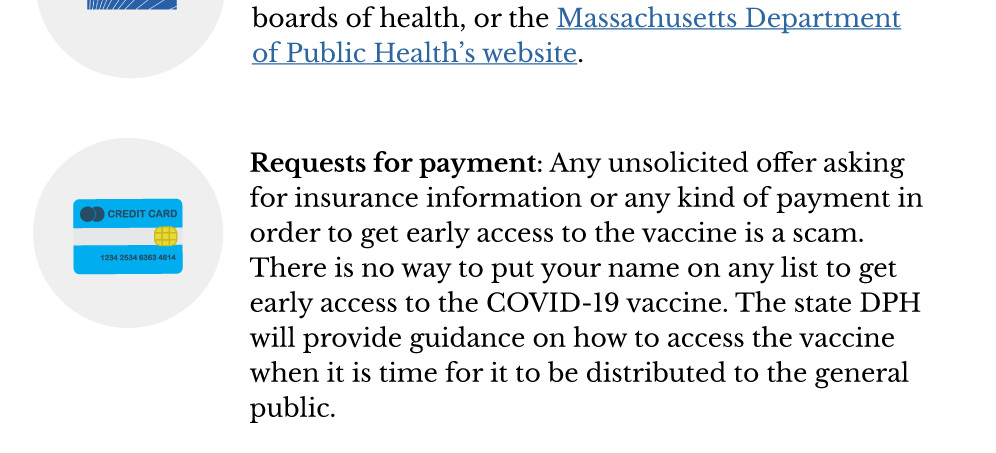 "These vaccines are incredibly important to keep us healthy and help us defeat this pandemic, but unfortunately scammers are already trying to take advantage of this moment," Healey said in a statement. "We want residents to have confidence in this vaccination process and remain vigilant when it comes to fraud and fake offers."
While there have been relatively few known victims of fraud related to COVID-19 vaccines so far, Stewart attributes that to the relatively small supply that has been made available to front-line medical workers and especially vulnerable populations.
"As the distribution starts ramping up, people are going to get solicited to pay to get ahead in the line. Consumers should know that's not possible," she said. "The federal government has bought the vaccine, insurers are paying for administration for their members, you can't pay to cut the line line and get early access in Massachusetts. If that's what you're getting told, that would be a scam."
In Massachusetts, people over 75 are eligible for vaccination starting Feb. 1, with people over 65 and other groups following in coming weeks.
Federal agencies have warned of vaccine-related scams including fake ads for vaccines on social media platforms. 
"The FBI, Department of Health and Human Services Office of Inspector General, and Centers for Medicare & Medicaid Services have received complaints of scammers using the public's interest in COVID-19 vaccines to obtain personally identifiable information and money through various schemes," the agencies said in a statement. "We continue to work diligently with law enforcement partners and the private sector to identify cyber threats and fraud in all forms."
The public should always double check that sources of information are verified and legitimate and never share personal health or financial information with anyone other than known and trusted medical professionals, the agencies said.
"People need to hang tight, wait, and make sure they get a legitimate vaccine," she said. "And they should remember, their health insurance will cover the cost of vaccination with no out-of-pocket cost."

The AG's Office encourages anyone with questions or concerns to call the AG's consumer hotline at 617-727-8400 or file a complaint online. 
If you believe you have been the victim of a COVID-19 fraud, you can report it to the FBI (ic3.gov, tips.fbi.gov, or
1-800-CALL-FBI) or HHS OIG (tips.hhs.gov or 1-800-HHS-TIPS).