Sep 20, 2022
Let's Zumba in the park!
A "crowdsourced" array of free in-person and virtual wellness classes in Boston's parks is geared toward every age and interest, offering options in every neighborhood this summer.
"We checked in with residents to see what classes they might like to see offered in their neighborhood, and visited neighborhood gyms to find out when they were busiest and gauge the need for more options," said Jennifer Misiaszek, the program manager for the Boston Parks and Recreation Department. "It's about getting out and getting a feel for what every neighborhood likes." 
The 2022 lineup, sponsored by Blue Cross Blue Shield of Massachusetts, includes one virtual class offered every night of the week along with 18 in-person classes across the city -- and two in-person classes in Dorchester, Boston's largest neighborhood.
 

Some of the most popular offerings include chair yoga in Symphony Park on Thursday mornings, traditional yoga offered on Monday at Roslindale's Adams Park and on Tuesday at Doherty Playground in Charlestown, and line dancing which takes place on Wednesday evenings at Franklin Park in Dorchester.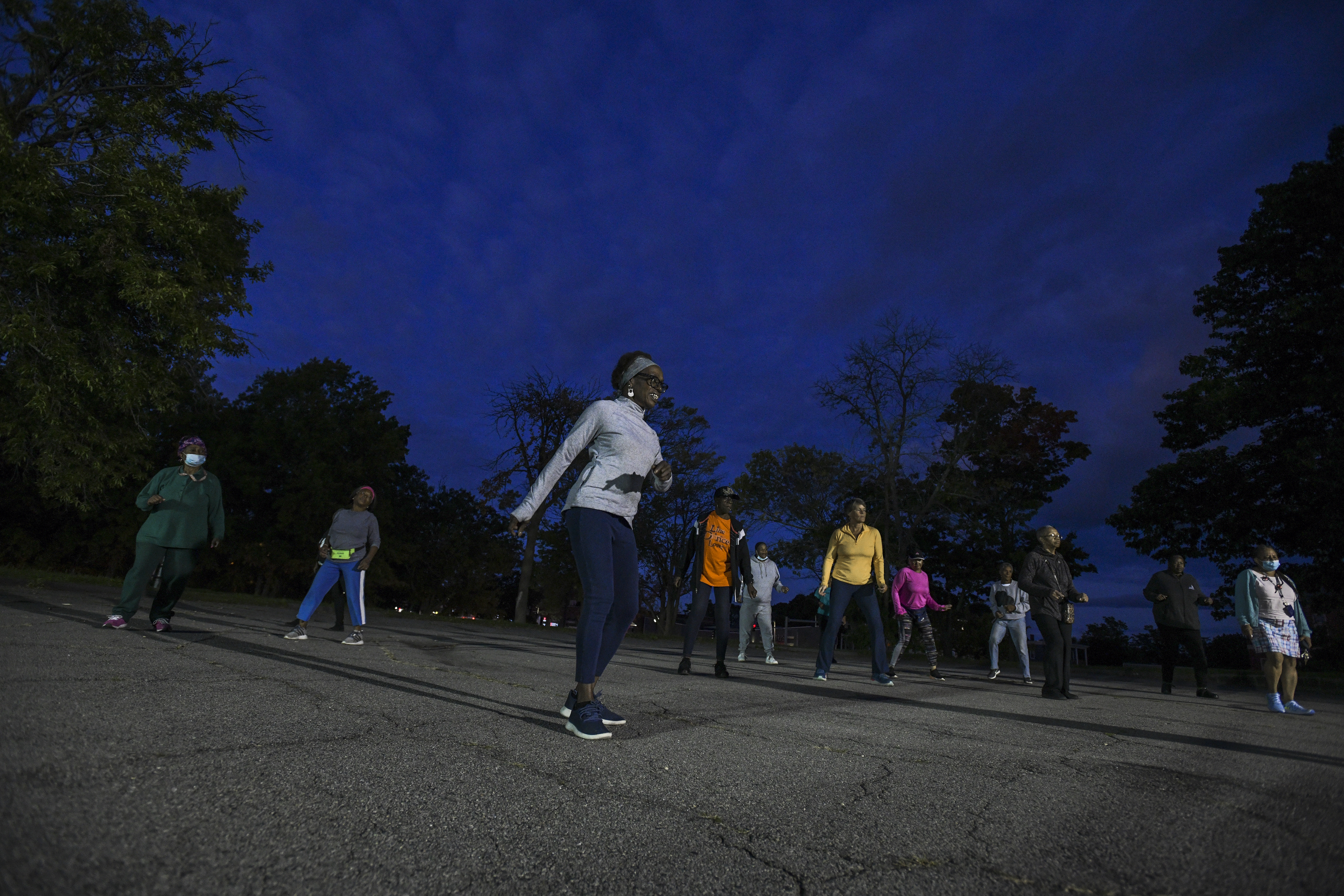 There are also high-intensity interval training classes, 305 dance — which features high energy music and pulsating beats — and Pound, which treats Mozart Street Playground in Jamaica Plain to a symphony of fitness-infused percussion every Thursday evening.
"It's a class that works the arms but it's also core because of how you're standing and it's legs because you're doing squats. It's pretty neat," Misiaszek said. "And it's for the whole family. A kid might not want to be sitting around doing something uninteresting, but they will definitely grab some drumsticks."
Fitness diehards and newcomers alike have returned to the expanded in-person program.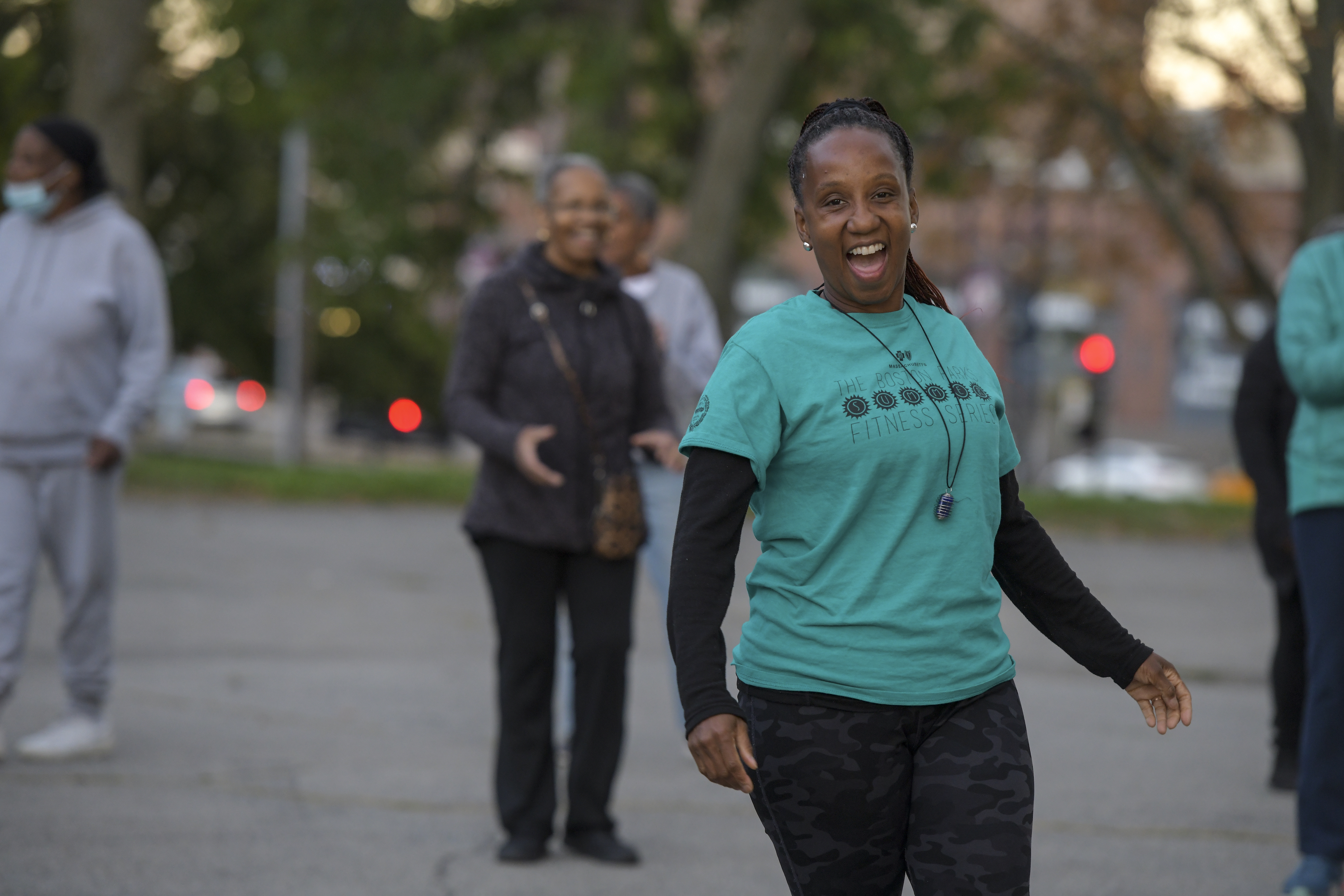 "Attendance has been awesome, I think we are hitting record numbers," Misiaszek said. "We came to a brief screeching halt with COVID, but what's amazing with this series is that we were able to pivot, move virtual when necessary, and keep it going. It's great to be back in person now!" 
Part of the record turnout has been due to the Parks Department's continued evolution of the offerings. Misiaszek said the planning begins each winter with the goal of trying to increase attendance in neighborhoods that saw lower attendance in the prior year.
"We try to figure out whether it's the class or maybe the time of day," she said. "And now we are doing great."
Misiaszek likened the planning to the 1980s video game Tetris: it's all about finding the right fit.
"We figured out which neighborhood parks have the most foot traffic and which ones are easily accessible from the MBTA," she said. "And some have worked well over the years, so we keep those in place, because why change something that works?"
Ultimately, the program is about activating the public parks in a positive way and strengthening the city's neighborhoods and sense of community.
"We want to promote positives to push out any negative that could be out there," Misiaszek said. "But we also want to help people build networks and friendships and they really do."
 
Did you find this story informative?
All Coverage content can be reprinted for free.
Read more here.