May 4, 2023
The medical-dental connection
Marie knows regular dental check-ups are important in managing her diabetes. 
So when her dentist told her she was eligible for extra cleanings through her health plan, the 56-year-old got the appointments on the books right away. 
"I know having diabetes can make your dental health deteriorate quicker than normal. My father was diabetic, and he had complications. That makes me stay on top of my appointments and maintain the health of my teeth," said Marie, who was diagnosed with diabetes 12 years ago. 
Dr. Saishree Amin, dental director of Gentle Dental Wakefield in Wakefield, Mass., urges patients like Marie who are eligible for extra cleanings to take advantage of them. 
"The link between oral health and chronic conditions like diabetes in particular is well documented, especially the link between periodontal disease and uncontrolled diabetes," Amin said.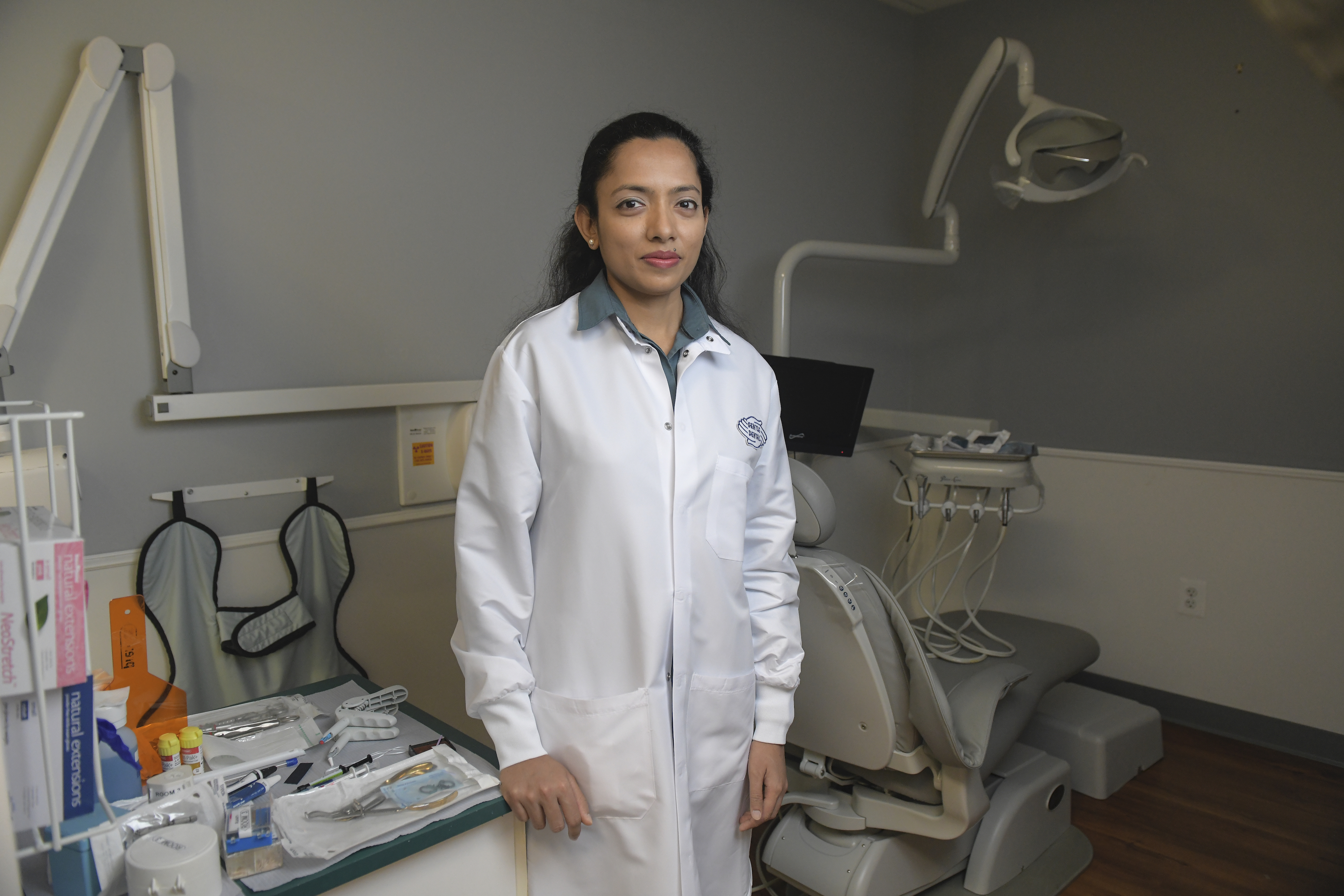 Individuals with diabetes often have higher levels of sugar in their blood, Amin notes. This can decrease the body's ability to fight infection and can attract bacteria in the mouth that can cause tooth decay, cavities, and periodontal or gum disease, an infection of the gum and bone that hold the teeth in place and can lead to pain, bad breath and even tooth loss. 
At the same time, poor oral health can make a person's diabetes worse. Research shows that gum disease can increase a person's blood sugar levels. 
Because roughly 1 in 10 Americans has diabetes, Amin noted, having another tool in the toolbox like more rigorous dental care can make a real difference for patients. 
"An extra cleaning always helps. It can make a big difference for a patient's oral and overall health," she said.
The medical-dental connection
Blue Cross Blue Shield of Massachusetts provides dental coverage to one-third of its nearly 3 million medical members. The not-for-profit health plan also provides enhanced dental benefits, such as extra cleanings, exams and periodontal treatments, to members like Marie who have a chronic health condition. 
"We are focused on the medical-dental connection," said Blue Cross Executive Director of Professional Services Dr. Bob Lewando, a periodontist. 
There is overwhelming evidence that dental care can aid in the management of several chronic health conditions, such as diabetes and heart disease.

- Dr. Bob Lewando
"Because we offer dental coverage to a large portion of our medical members, we have a unique opportunity to improve their overall health and significantly reduce their medical costs through enhanced oral health care," Lewando said. 
An innovative partnership
The health plan took another step in recent years to improve members' whole health: a first-of-its-kind payment model with dental group 42 North Dental, which supports more than 100 dental practices across the Northeast and Midwest, including Gentle Dental locations.
"This new incentive arrangement aligns with our focus on improving our members' total health because we reimburse dental practices for integrated, coordinated care for our members," Lewando said.
Under the dental model, believed to be the first of its kind in the country, Blue Cross gives an incentive payment to 42 North Dental providers who make measurable improvements in the oral and overall health of dental members, in addition to the standard payments it provides all dentists for their services.
"Research has shown that the links between systemic and oral health are real, and we are proud to take the first steps together with Blue Cross to ensure our patients get the care they need," said Dr. Michael A. Scialabba, chief clinical officer for 42 North Dental. "The alignment of providing the appropriate care at the right time to help our patients in need is very powerful." 
The arrangement is similar to the Alternative Quality Contract Blue Cross has with its medical providers, designed to foster high-quality, high-value care. 
"We've seen outstanding results from our value-based payment model for our medical plans, including lower health care costs and better health outcomes for our members, and we are proud to offer this to Dental Blue members as well," said Lewando. 
For patients like Marie, getting comprehensive care is invaluable.
My health is important to me. If a few more trips to the dentist can help me manage my diabetes and stay healthy, I'm happy to do it.
Did you find this column informative?
All Coverage content can be reprinted for free.
Read more here.
---
PHOTO OF DR. SAISHREE AMIN BY FAITH NINIVAGGI, PHOTO OF DR. BOB LEWANDO BY MIKE GRIMMETT