Jun 5, 2023
'She's a guardian angel'
Tristan Jorud has never heard of the Alternative Quality Contract, a health care payment model that rewards physicians and hospitals for the quality instead of the quantity of care they provide their patients. But it has changed his life. 
The 34-year-old Southwick, Mass., man has had type 1 diabetes since he was 2 years old.
"It's heredity," he said in a phone interview with Coverage. "My father had it, most of the guys on my father's side had it."
He credits his father's experience and his mother, "who was meticulous in taking care of me," with his ability to manage his condition through childhood. 
In his teens, however, he came to hate his disease and pretended he didn't have it because he didn't want to be different. He didn't eat as well as he should, was sometimes lax in checking his blood sugar and wasn't as mindful about injecting himself with insulin, the drug that helps him maintain a healthier blood sugar level. 
By the time he was in his 20s, Jorud was having circulation problems in his legs, noticed he was catching colds easier and that it was taking longer for his body to heal from the everyday cuts and bruises he got working construction. 
Managing his condition as a young adult was even more challenging given that the small family business he worked for could only offer him basic health care coverage. His plan was complicated, his insulin expensive and he had to travel from the Springfield area to Worcester to see his endocrinologist.
That all changed when he found a new job as facilities manager at the Polish National Credit Union, where he enrolled in a Blue Cross Blue Shield of Massachusetts plan and was able to find an endocrinologist closer to his home and work. 
Little did Jorud know that his doctor, Warren Thau, and the team at Trinity Health of New England in Springfield Mass, were part of the insurer's Alternative Quality Contract, or AQC. 
An innovative model
Blue Cross debuted the AQC in 2009 as a new way to reimburse doctors. Traditionally, physicians and hospitals are paid a set fee for every test and procedure. The AQC is designed to give physicians a global budget to spend on their patients while offering payment incentives for providing care that meets or exceeds nationally accepted quality measures. In short, it rewards value of care over volume.  
Today, more than 80% of Blue Cross' physicians and hospitals participate in the AQC, agreeing to take responsibility for the full continuum of care their patients receive, regardless of where the care is provided. Around the country, hundreds of accountable care organizations that care for millions of patients have adopted the principles of the AQC too. 
Long-term studies by Harvard Medical School show the AQC has slowed the rise in health care costs while improving the quality of that care.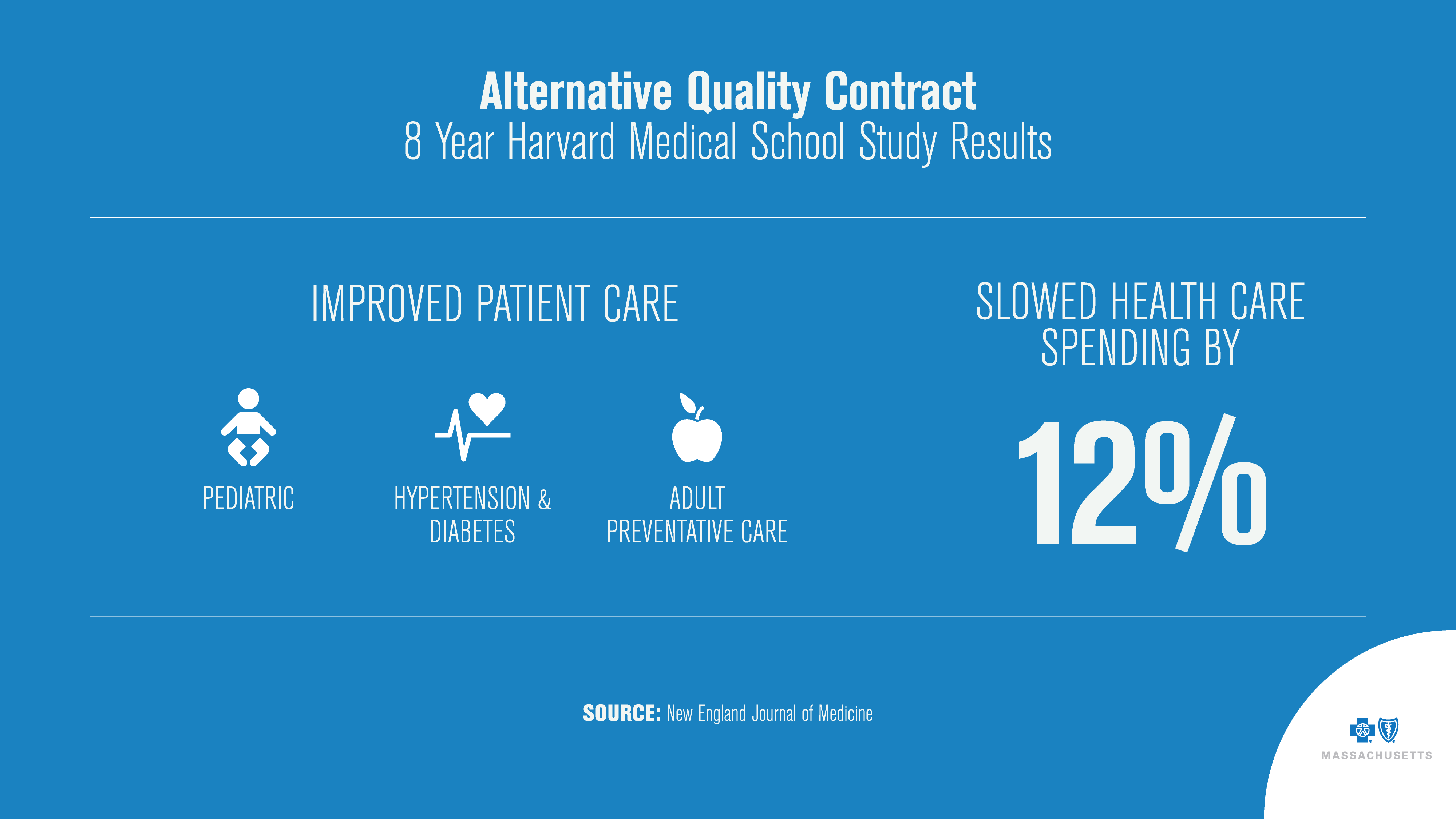 The most recent, published in the New England Journal of Medicine, found the payment model reduced health care spending by almost 12% and "unadjusted measures of quality under this model were higher than or similar to average regional and national quality measures."
Unlike the century-old model of paying only for in-person office visits with a physician, the AQC gives medical practices flexibility. For example, they can use their global budget to hire social workers, health coaches and case managers to address patient needs in a wide variety of ways. 
Amid the 2020 COVID-19 pandemic, when our clinician partners were hit with a steep drop in office visits, along with the unanticipated costs of pandemic safety measures, we stepped in to provide direct financial support by accelerating $40 million in AQC payments in the spring. Under normal circumstances, these incentive payments, which reward providers for improving quality while lowering costs, would have been made in late 2020 or early 2021. 
Patient impact
"It really has changed the way people practice medicine," said Dr. Les Sebba, a pulmonologist and chief medical officer for the Beth Israel Leahy performance network, which participates in the payment model.
The AQC forces doctors to "not let patients fall through the cracks," when it comes to recommended screenings and lab tests that can identify health issues before they become serious, Sebba said. It ensures patients with chronic conditions are getting the treatment they need. 
"It takes a significant amount of effort to get this done," said Sebba. For instance, Beth Israel Leahy and other health care providers have created teams of people who focus on specific health care conditions such as diabetes, analyze the organization's patient population, and identify those diabetics whose blood sugar – or A1C measure – is not well controlled. 
At Trinity Health, those patients will likely receive a phone call from Ruth Haley, a registered nurse who was named quality case manager for diabetes patients about 18 months ago. As an AQC clinician, Haley receives detailed data from Blue Cross, reports that are designed to enable her to better care for her patients -- for example, a list of those who are overdue for needed services and preventive care. 
Using her targeted data, Haley has monthly, sometimes weekly, conversations with as many as 80 diabetic patients. People like Tristan Jorud.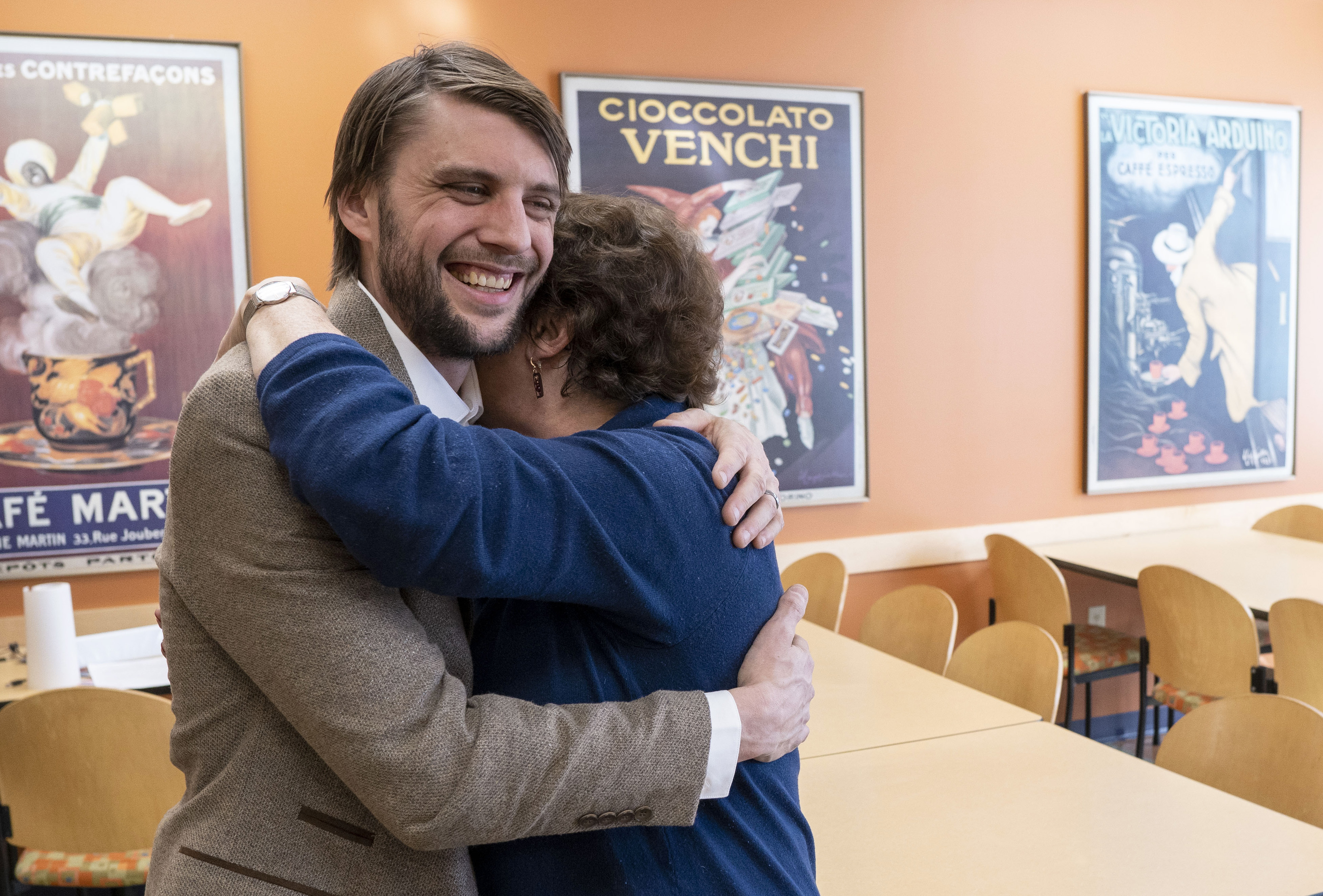 "We talk about strategies to better manage their disease," said Haley, seen above with Jorud. "We may talk about their diet, their snacking habits, the importance of exercise, and I help them find a better path" to controlling their condition. 
Haley credits education and support provided by Blue Cross in part for her ability to help her patients. Last spring she attended 2 days of motivational interview training offered by the company. "This program impacted my approach, improving my appreciation for the importance of listening, acceptance and working as a partner with our patients."  
Haley is a problem-solver. She recalls that Jorud was starting to skip some of his regular appointments with his endocrinologist and wasn't taking her calls. When they finally did connect, Haley learned that Jorud was frustrated with the cost of his insulin, which was as much as $720 month. 
She did some digging and called his pharmacy and Express Scripts, the pharmacy benefit manager for Blue Cross. She learned that Jorud qualified for discounts and other programs that significantly reduced his out-of-pocket costs. 
In their first three months working together, Haley helped Jorud reduce his blood sugar level about 20%, from 9.2 to a healthier 7.4.  The target level for people with diabetes is usually less than 7%. The higher the level, the higher the risk of complications such as cardiovascular, kidney and nerve disease and blindness.
"She's a guardian angel to me," Jorud says. "Ruth is what every diabetic has ever needed. She checks up on you to make sure you do what you need to do." 
Changing lifestyles and improving lives
Like Jorud, Ariel Sims, a 32-year-old e-commerce assistant for a western Massachusetts museum, has never heard of the Alternative Quality Contract. She was diagnosed with type 2 diabetes as a young woman. 
It took time and hard work for Sims to change her lifestyle allowing her to better manage her condition. But Haley helped her overcome those challenges. 
Sims and Haley talk by phone twice a month. And while they do discuss her blood sugar numbers, "It's not all about my diabetes," Sims said, "Ruth asks about me and what's happening in my life."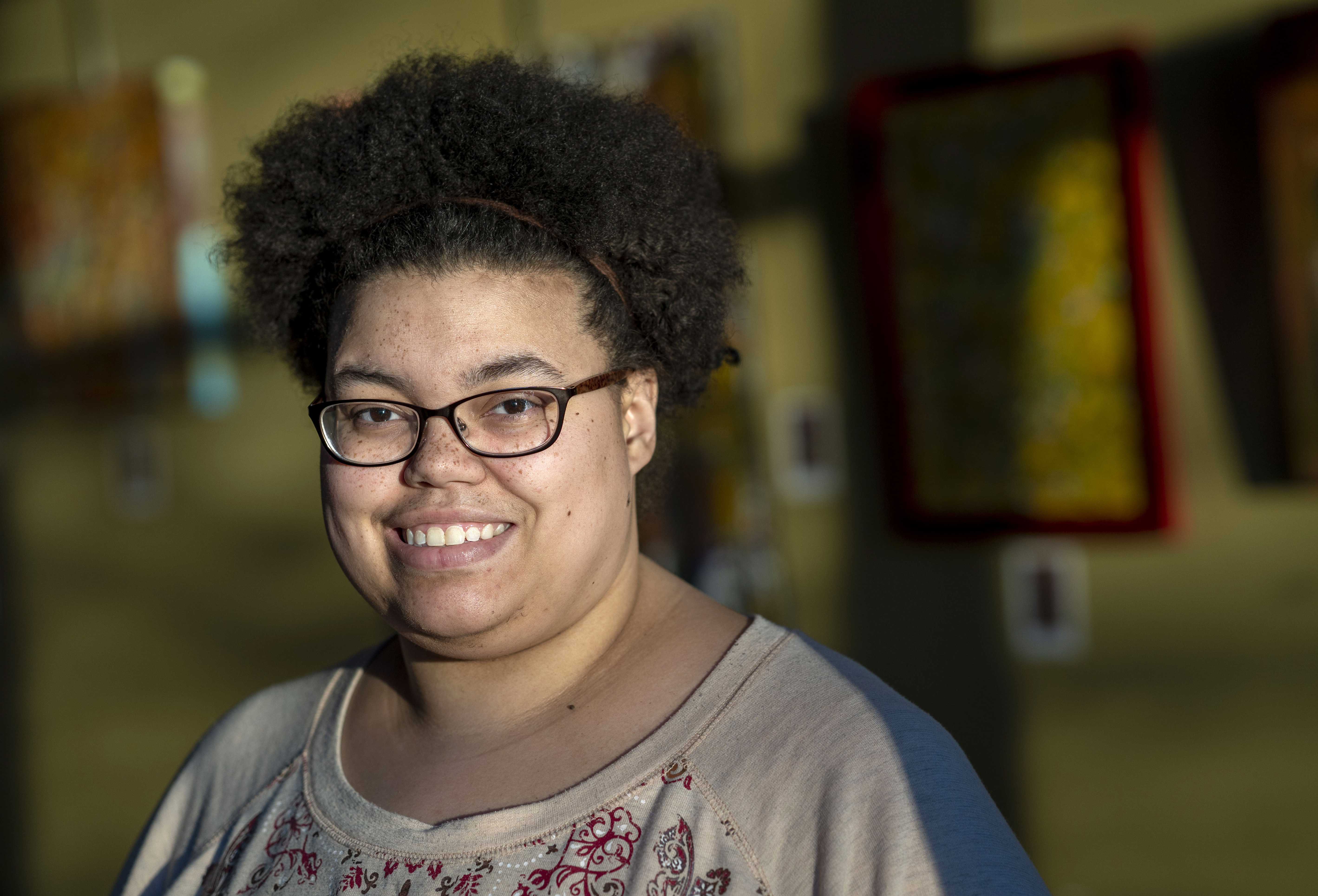 It's an approach that can lead to important conversations: "We talked about how meals around the holidays are not always healthy," Sims recalls. "She asked me, 'What do you think you should do?' and we settled on me bringing veggies and a salad to family dinners." 
Working with Haley, Sims has improved her diet, and increased her physical activity – for example, walking to work whenever possible. The changes that have helped her lower her blood sugar level from over 9 to just over 7. 
She not only appreciates the strategies she and Ruth come up with to manage her disease but says Haley's support and encouragement are also making a difference. 
"She tells me she's proud of me, and that feels really great. I know I'm not alone."
Sims says she's "100% doing better" thanks to Haley. 
And, perhaps, thanks to a payment model that clinicians say is helping transform health care.
Did you find this article informative?
All Coverage content can be reprinted for free.
Read more here.
---
PHOTOS OF RUTH HALEY, TRISTAN JORUD & ARIEL SIMS BY CHRIS EVANS