Mar 10, 2021
'When we address health equity, we're improving health for all of us'
A new Department of Public Health initiative is aimed at putting an end to the suffering and loss of life in Massachusetts' most vulnerable communities during the deadliest pandemic the world has seen in 100 years. 
"I wake up every day with that as my driving force," DPH Commissioner Dr. Monica Bharel told Coverage. "It's been a very long, devastating pandemic. The loss of life and suffering is just unimaginable. And we've seen a particular burden on certain populations." 
New outreach
Last month, the Baker administration announced a new vaccination outreach initiative, which will target the 20 cities and towns in Massachusetts most affected by COVID-19, in close partnership with community leaders. 
"Our message to these 20 communities is: We understand that you've had a disproportionate impact from COVID-19," Bharel said. "As we work on our vaccine distribution, we want to make sure we're providing access for those who are eligible, as well as working to build trust in the vaccine."
The initiative – which launched officially Feb. 24 in all 20 communities – invests resources directly to increase awareness of the new COVID vaccines' safety and efficacy and to reduce barriers to vaccination, including:
Tackling accessibility issues by identifying gaps in vaccination locations
Answering questions about the available COVID-19 vaccines using information tools like Trust the Facts. Get the Vax and vaccine FAQs in multiple languages
Supporting local leaders, including community- and faith-based groups, to help residents learn about the immunizations and overcome barriers.
Department of Public Health community liaisons also have been deployed to coordinate resources in communities that have suffered disproportionate losses.
"We're listening to these communities and working with them to focus on their exact needs , understanding what they already have in place and how to build on it, learning about their high-priority concerns, and identifying opportunities to continue communication and provide resources," Bharel said.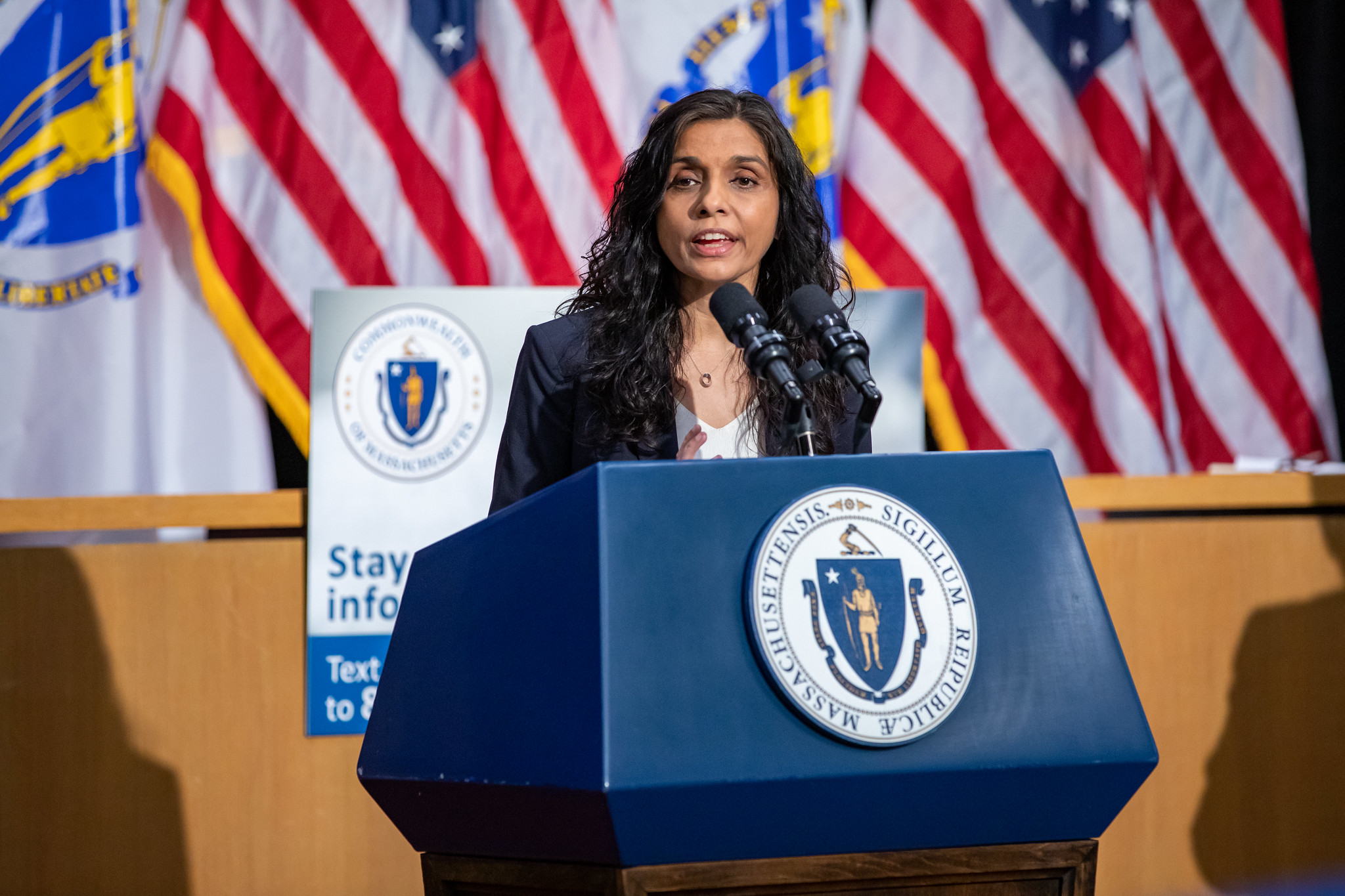 Collaboration, drawing on data
The state identified the communities by using data on COVID-19 case rates, along with factors based on the CDC's Social Vulnerability Index. The communities are Boston, Brockton, Chelsea, Everett, Fall River, Fitchburg, Framingham, Haverhill, Holyoke, Lawrence, Leominster, Lowell, Lynn, Malden, Methuen, New Bedford, Randolph, Revere, Springfield, and Worcester.
"Our goal is to pair this data we have with community voices," Bharel said.
It's very important that we're not telling these communities what to do, but instead we're raising up their voices and understanding what those communities need and then working to meet those needs in concrete ways.
The outreach effort is based on an innovative approach, focused on the unique populations and needs of each community, Bharel said.
"All of us in health care and public health tend to look at diseases, whether it's diabetes, high blood pressure, opiate use, mental health issues, or, in this case, COVID-19," Bharel said. "What we've started doing at the Department of Public Health is instead of looking at particular diseases, flip that model and look at the populations we care for. The same groups of people tend to suffer disproportionate impact, no matter what the disease. We look at whether our programing, policy-making, and work are structured appropriately for reaching populations that are more impacted by illness and disease." 
Key players in this initiative will be community health centers, which have long been a trusted resource in vulnerable communities, Bharel said. Millions of dollars in Centers for Disease Control funding will help support the centers, and Massachusetts' largest not-for-profit health plan, Blue Cross Blue Shield of Massachusetts, is investing $1 million to help community health center patients get transportation to vaccination sites. Two-thirds of patients at these centers nationwide are living at or below the federal poverty line, and 60% are people of color.
A focus on equity
A longtime internist who trained at a community health center, Bharel served as chief medical officer at Boston Health Care for the Homeless, has worked extensively with underserved populations, and has long been focused on equity in health care. She brought that perspective to her role at DPH. 
Last spring, Bharel noted that race and ethnicity data was missing from COVID-19 testing numbers, and swiftly issued an advisory that required the reporting and submission of specific demographic information. 
"That really increased the reporting we received and allowed us to do some data analysis," Bharel said, "and unfortunately, it did show communities of color were disproportionately bearing the burden of COVID-19."
For example, Black residents make up about 9% of the state's population, and, tragically, account for approximately 15% of the COVID deaths in Massachusetts. So far only about 5% of vaccines have gone to Black residents in Massachusetts – a rate that is stronger than in many states across the U.S., but nonetheless represents urgent need. 
"Our job is to really look at data, paying attention to social determinants of health and find where disparities are," Bharel said. "Those individuals need our resources most and we need to target our resources to them." 
In May, Bharel established the COVID-19 Health Equity Advisory Group, and in the fall the department conducted a statewide COVID-19 Community Impact survey, answered by more than 33,000 residents, that helped identify concerns and needs. The department is using these findings to shape its work and the vaccine distribution plan, placing equity at the center.
"Everybody around the globe has been affected by this pandemic," Bharel said. 
"We are all interdependent for our health, and when we address health equity, we're improving health for all of us. This year has shown that so powerfully."
Did you find this article informative?
All Coverage content can be reprinted for free.
Read more here.