Aug 10, 2020
Team Mask
Sean Tyler bought a 3D printer as a way to help his Lego-loving son, Max, build custom pieces. But when the COVID-19 pandemic hit and the shortage of personal protective equipment for front-line workers and the public at large became clear, Tyler decided to repurpose the toy for a life-saving mission.
"I downloaded the schematics and followed the instructions and taught myself how to make face shields," he said. 
Tyler's 3D printer started working 24/7, and he now has three laying down thin layers of material in order to make the shields. He checks on the devices every couple of hours, even setting an alarm in the middle of the night to remove the face shields and place them in a sterile box, ready to be donated to those who need them. To date, he has made nearly 3,000 shields.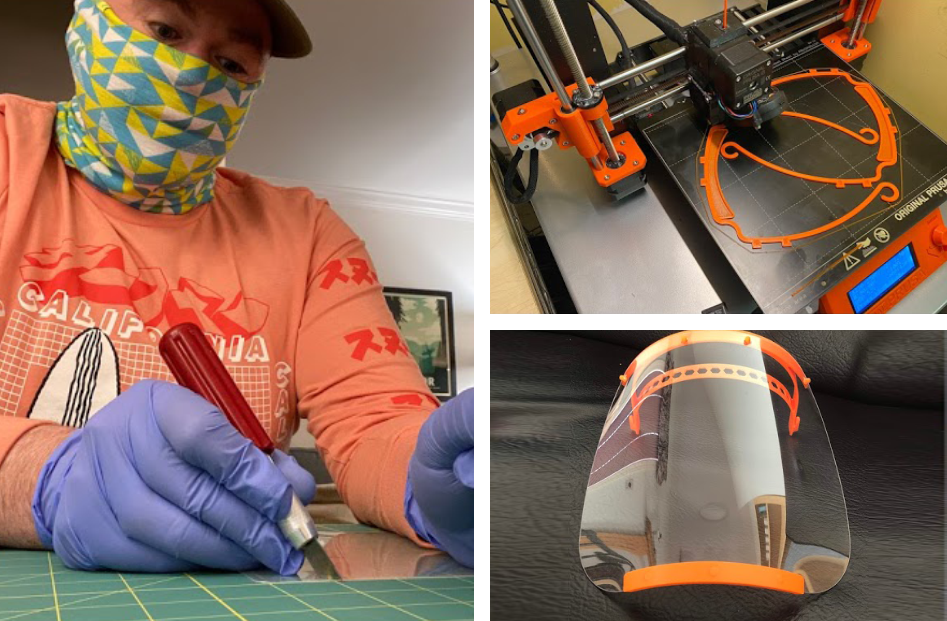 "It's really rewarding, handing them over to places that need them, especially the nursing homes," Tyler said. "We have donated some to a local hospice so family members can visit their loved ones. It's another barrier removed and one less cost for them, and the demand is still really high in certain places."
Research has shown that masks help contain the spread of the coronavirus, and Tyler, a senior account service specialist, is one of dozens of Blue Cross Blue Shield of Massachusetts employees who have pitched in to make masks for donation to health care workers or the public.
"The drive of our associates has been amazing to witness,"said Pauline Murnin, Blue Cross manager of civic engagement. "We learned early on that several colleagues were making masks and ended up creating a formal virtual volunteer opportunity and a call to action for others to join.  Since March, dozens of employees have joined forces to create nearly 10,000 cloth and plastic masks that have been donated to friends, local businesses and nonprofits within their own communities." 
Cori Anderson, a senior provider service representative, said she felt helpless when the reality of the pandemic and its effects on daily life began to set in. The mother of five adult children, Anderson said her "mom instinct" kicked in and she started making masks for her family and friends, Blue Cross colleagues, and local nonprofits including the Interfaith Social Services and the Weymouth Food Pantry.
I blew the dust off my sewing machine that I hadn't used in a couple of decades and started making masks 
- she said. 
Anderson converted one of her kid's bedrooms into a workstation and averages a few dozen masks per day. Her one-day record is 70 masks, and they've been sent as far away as the U.S. Virgin Island of St. John, where they were distributed to health care workers, resort workers, and a day care center.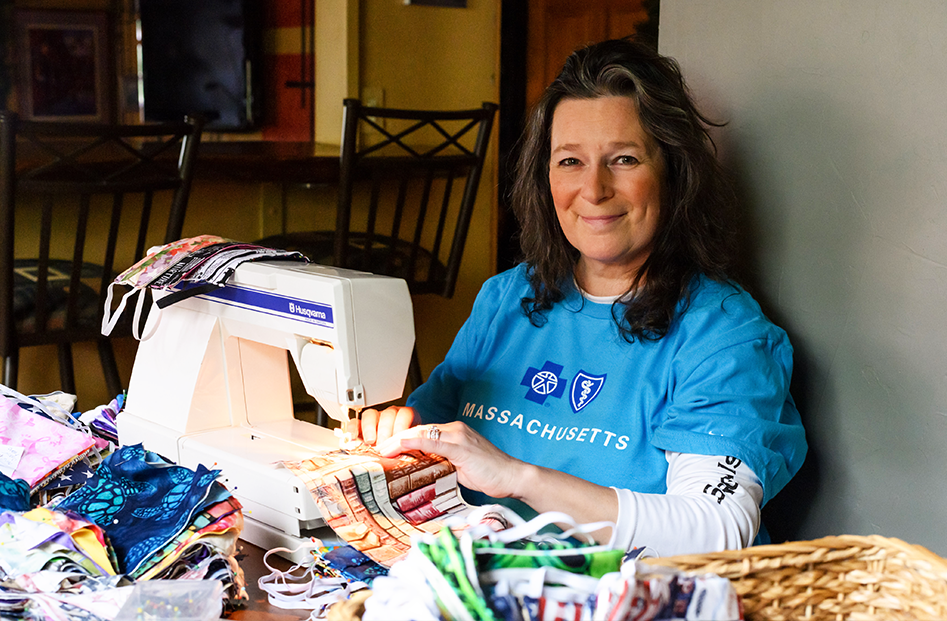 "There is fabric everywhere," Anderson said. "The thing that has motivated me is the complete, unrelenting support of other people that are paying it forward. I've made masks for people who tell me they'd pass them on to someone else. Some of these foundations are passing them out to folks who are just trying to get their lives to some sort of normal."
Workers on the front line have been the ones most in need of masks and other personal protective equipment since the crisis began. Stephanie McHugh is a registered nurse and a clinical manager at BCBSMA and part of a mask-making group in her hometown of Hingham.
"We were getting all kinds of requests from hospitals and health care centers and nursing homes," McHugh said. "Everybody was scraping by, trying to get supplies because nobody knew if they had enough or what they were going to need."
When businesses began to reopen, it created a whole new demand for masks for people who had been largely inside and were now venturing out back into the workforce.
"Restaurant servers might need to change their masks several times in a shift," McHugh pointed out.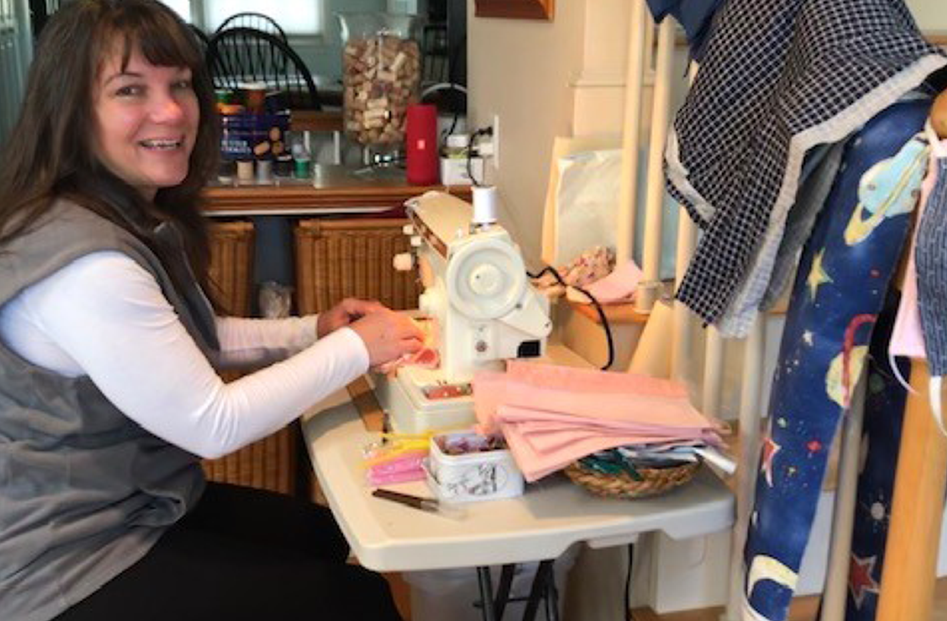 For the mask-makers, the work has proved to be rewarding during a chaotic and angst-filled time. 
---
I wish I could say tomorrow I don't have to make another mask, but the fact that I am doing it is still keeping me positive and making me feel I'm contributing somehow," Anderson said.
---
"It's been encouraging. We encourage each other to keep it going forward when it's hard to know what else to do."
"We are so proud of the contributions our associates have made to help our communities stay healthy amid this pandemic," said Jeff Bellows, vice president of corporate citizenship and public affairs. "Every day our colleagues go above and beyond to support our members, and to see that many are devoting their nights and weekends to making masks is truly inspiring."  
The work pays dividends for families, too. Tyler said he has used the face shield project as a "teaching moment" for Max, who has enjoyed pitching in with his dad.
"Just because this thing is designed for toys doesn't mean it can't be put to use helping out," Tyler said. "These people are really happy to get the masks. I had no idea this would have such a big impact, but we are doing work that's worthwhile and he thinks it's really cool."
---
Tips how to make your own masks
---
Did you find this article informative?
All Coverage content can be reprinted for free.
Read more here.