May 17, 2021
Watch: Free shot, free ride, carefree
Elijah Ngbokoli always opts for Bluebikes when he wants to get around the Boston area.
"It's relaxing," said the 23-year-old Cambridge resident, "easy to unlock, fairly cheap and really convenient," 
​That's why, after recently getting his second vaccine shot at the Reggie Lewis Track and Athletic Center in Roxbury, he walked across the street and used his cellphone to unlock a Bluebike. 
His destination: South Station, about three miles away, where he planned to drop off the bike and catch a train to visit his parents in New York.
​"I could have walked to South Station, but taking the Bluebike is just a lot better," said Ngbokoli, who often uses the bright blue two-wheelers to ride through Cambridge and along bike paths near the Charles River. "Going back home has been tough because of the pandemic," he added, "but getting to see my fully vaccinated mom and dad again, it's going to be great." 

Ngbokoli isn't the only one riding the bikes to or from a COVID-19 vaccination site these days.
​In 10 local communities — Cambridge, Brookline, Everett, Somerville, Arlington, Chelsea, Newton, Revere, Watertown and Boston — riders are using a Bluebikes free-ride program, sponsored by Blue Cross Blue Shield of Massachusetts, to get to and from vaccination sites. 

The state's largest not-for-profit health care plan initiated the free ride concept in April as a way to boost access to Covide-19 vaccines for residents in underserved communities. To take advantage of the free rides, bikers can enter the codes BLUEVAX1 or BLUEVAX2 on the Bluebikes app to unlock two-hour rides.
"Bluebikes is an important part of our public transportation system in Boston, particularly during the pandemic," said Boston Mayor Kim Janey. "We're grateful for Blue Cross Blue Shield of Massachusetts' support in encouraging every Bostonian to get vaccinated."  

Bluebike rider Dr. Anne Liu, 33, uses Bluebikes to commute from Roxbury to Brigham & Women's Hospital, where she's a gastroenterology fellow. Now that she's vaccinated, she's looking forward to flying home to California to see her parents.
​"It's a lot to look forward to," she said with a smile.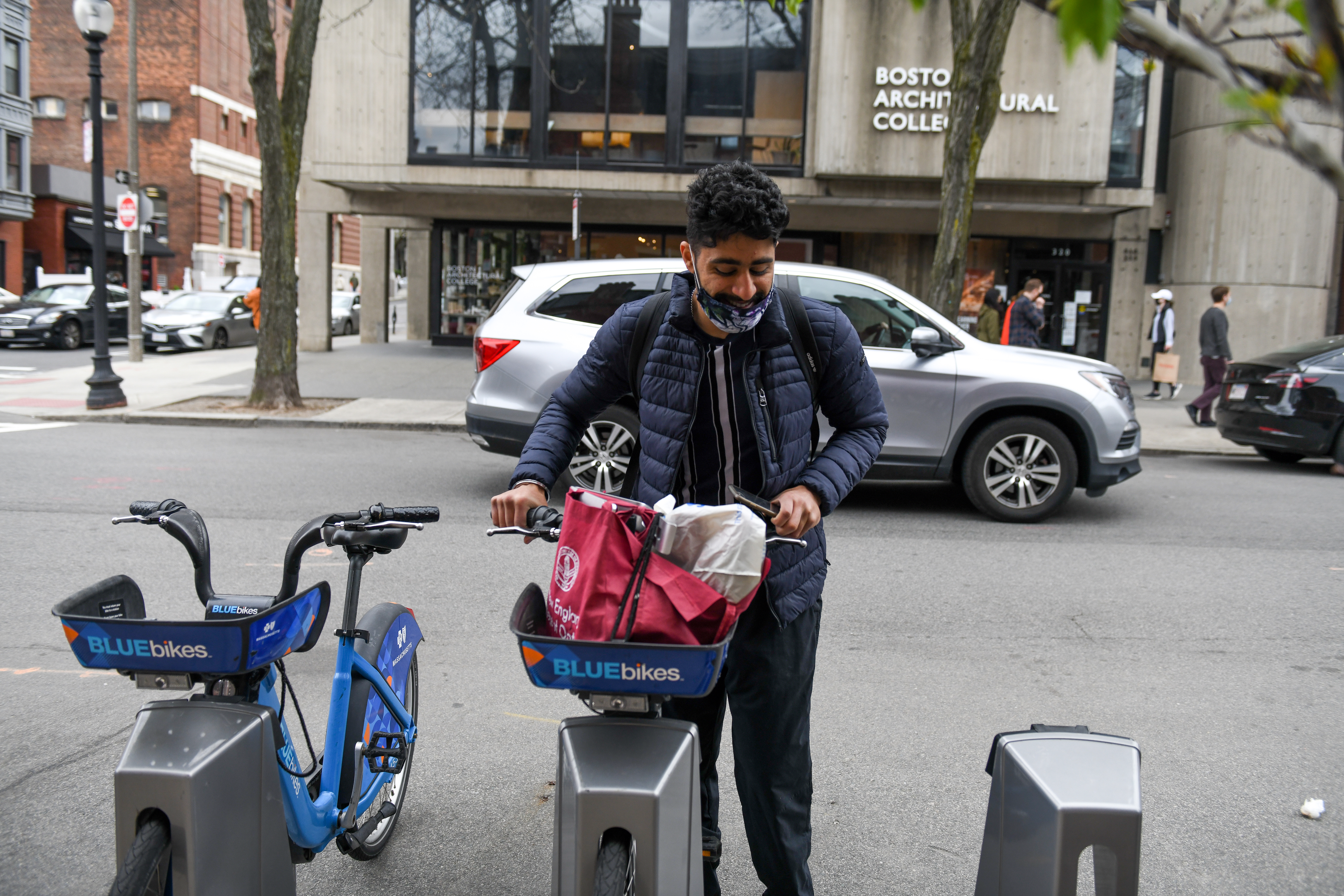 Jai Singh Sran, 24, also is looking forward to the future now that he's been vaccinated. 
​"I want to go back to Canada and spend some time with family," said the New England College of Optometry student.
​Sran, a Toronto native who lives in Allston, has been riding from his home to the Beacon Street school five days a week since he started classes.
​"I love 'em," he said of Bluebikes, while parking his latest ride at a docking station on Newbury Street, blocks from the nearest vaccination center at Hynes Auditorium.  "They are convenient, they are easy to get, they are cost efficient, and they are everywhere." 
​And he appreciates the free rides to vaccination sites.
"That's a great initiative," he said. "It will get more people vaccinated and contribute to the development of a normal society again."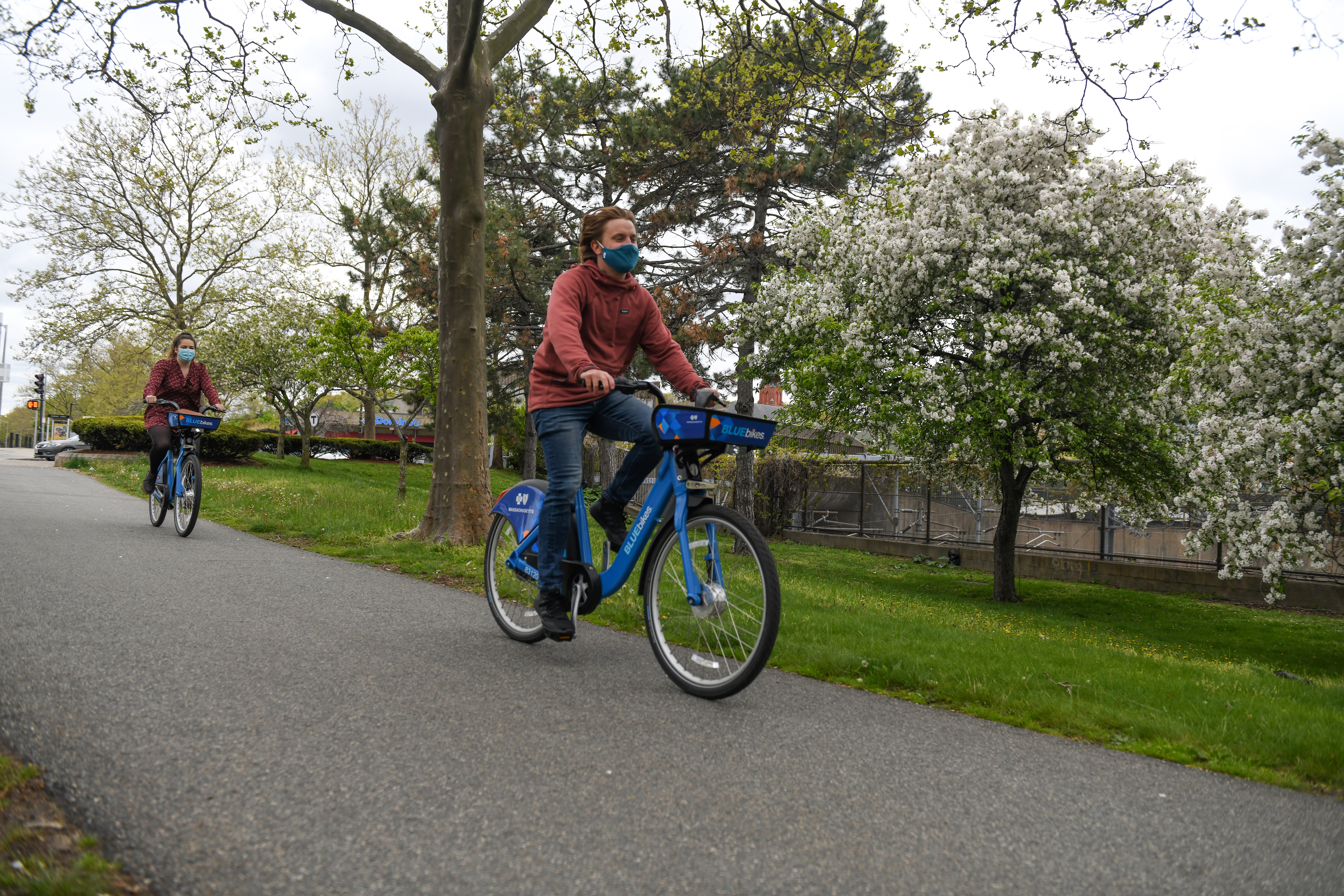 "I think it's great," agreed Connor Tiches, 26, as he biked with his girlfriend, Kaitlin Allair, from Roslindale to the Museum of Fine Arts. 
​"It's going to get people back out into the city and get people back supporting small businesses and going to restaurants when maybe they don't want to go on the T quite yet," he said.
​And, Allair noted, "a bike ride also makes for a great date."
Did you find this column informative?
All Coverage content can be reprinted for free.
Read more here.
---
PHOTOS BY FAITH NINIVAGGI, VIDEO BY KENT EARLE