Dec 21, 2020
What you need to know about the Moderna vaccine 
In a major advance in the fight against the pandemic, more than 150 million people in the U.S. have begun getting vaccinated against COVID-19. 
The U.S. Food and Drug Administration has approved vaccines made by Pfizer/BioNTech, and Cambridge, Mass.-based Moderna, and given emergency use authorization to a vaccine made by Johnson & Johnson. The vaccines are considered fully effective after the final dose, and all three are covered by health plans, including Blue Cross Blue Shield of Massachusetts, with no out-of-pocket cost. 
Here is what you need to know about the Moderna vaccine.
Safe and effective 
The FDA requires extensive evidence for emergency authorization of a vaccine – in this case, data from a diverse group of approximately 15,000 volunteers who have been monitored for months with no known safety concerns. 
Like the Pfizer vaccine, the Moderna vaccine is 95% effective, the FDA says. In clinical trials, out of approximately 15,000 people who received the Moderna vaccine, not a single one developed a severe case of COVID-19, the illness caused by the coronavirus. 
The vaccine has been reviewed by independent scientific and public health experts as well. The FDA will continue to monitor the vaccine's safety and effectiveness and is making detailed information publicly available on its website.
How does the Moderna vaccine work?
Vaccines, the greatest advancement of modern medicine, safely mimic viral or bacterial infections and train the body's own natural immune system to quickly and effectively fight a future infection. If a vaccine recipient is later infected with the virus or bacteria, the immune system will be equipped to fight it off and prevent illness.  
Most vaccines use a live or weakened virus or viral proteins to trigger the body's natural immune system.  


Like the Moderna vaccine, the Pfizer vaccine uses a new, clever, and safe method to train your natural immune system: Rather than injecting an inactivated version of the whole virus or a piece of the virus, these vaccines sends a snippet of what is known as mRNA, or messenger RNA, into the body. The vaccine mRNA is only in your body temporarily — just long enough for its genetic instructions to tell some of your cells to generate an innocuous part of the coronavirus's outer coating (called a "spike protein"), which then triggers the body's natural immune response, including the production of antibodies to COVID-19. 
"The vaccine mimics  a harmless part of the infection — just enough of the virus for just a long enough time to train the immune system," said Dr. Mark Friedberg, a primary care physician and head of performance measurement and improvement at Blue Cross Blue Shield of Massachusetts. "It's like the world's quickest karate class: An '80s movie montage that turns you into a world-class fighter over an improbably short time period." 
Messenger RNA vaccines do not contain live virus and cannot cause infection in anyone who is vaccinated. They also can't alter anyone's genes. 
Researchers have been studying mRNA for potential vaccines against HIV and SARS since the 1990s, but the new COVID vaccines mark the first mRNA vaccines approved for use in humans, said Desiree Otenti, senior director of medical policy and program implementation for Blue Cross Blue Shield of Massachusetts.
"We have medications that use this science now," she said, noting successful cancer treatments utilize mRNA. "It just hasn't been used for vaccines until now."
The components of the vaccine have been tried in human populations before, "and we know they are safe," Otenti added. "Although the vaccines are new and the way they've been manufactured is new, the key components aren't."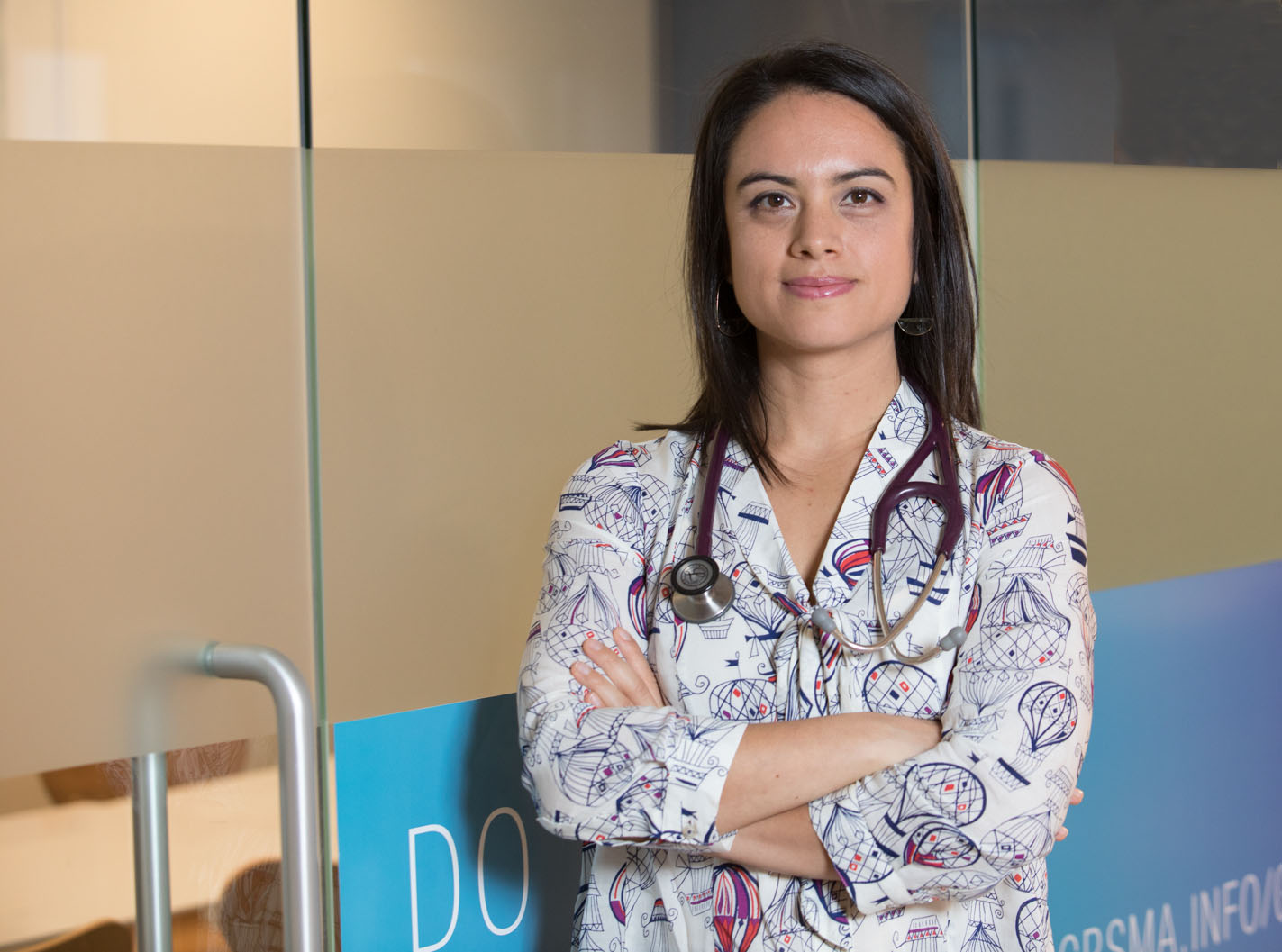 How does it differ from the Pfizer vaccine?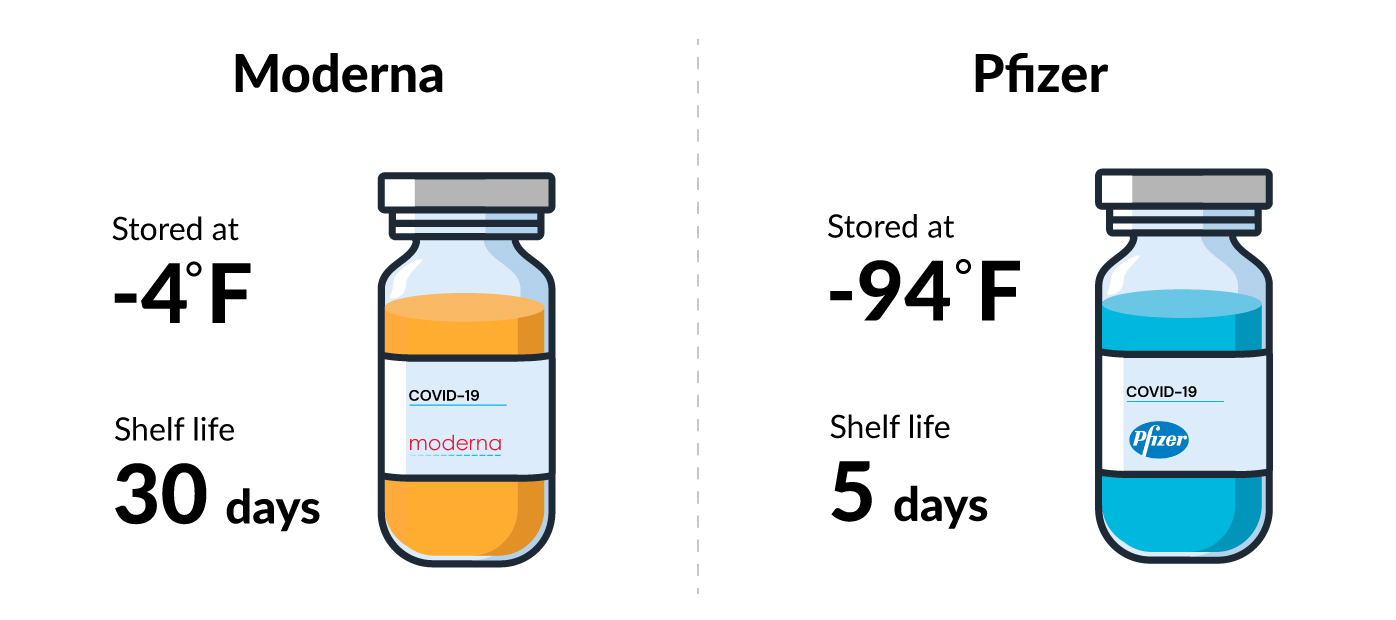 The Pfizer and Moderna vaccines contain different mRNA molecules, but they employ the same technique.
The biggest difference is temperature and shelf life: Moderna's vaccine does not need to be kept at ultra-cold temperatures, unlike Pfizer's, which needs to be stored at about minus -94 degrees Fahrenheit in a special freezer. 
The Pfizer vaccine should be used within five days after thawing. In contrast, Moderna's vaccine can be kept in a refrigerator for 30 days before it expires. Both can stay in a freezer for up to six months.
The Moderna vaccine is currently authorized for people aged 18 and up, while Pfizer's is authorized for age 5 and up. 
---
Vaccination is free, and everyone is now eligible
Read more about how to sign up for a COVID-19 shot – and get a ride, if you need one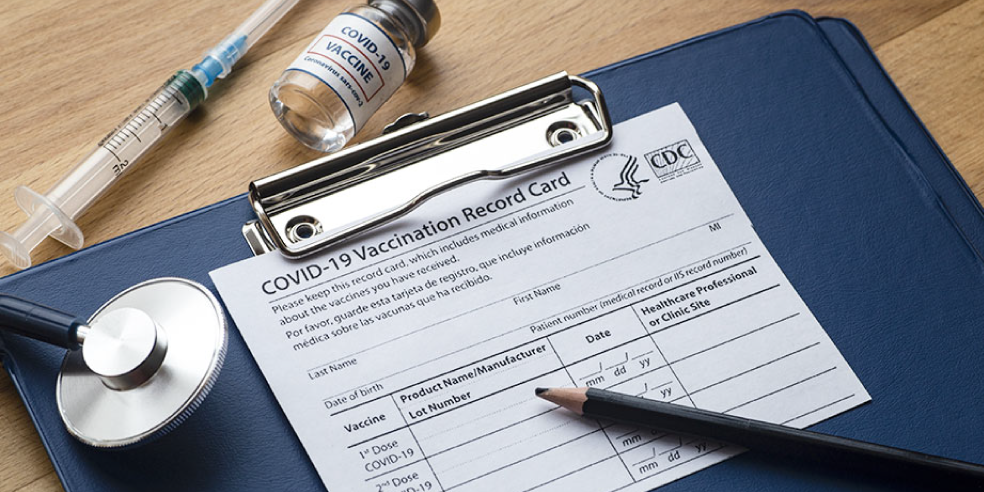 ---
Side effects?
Just as with a flu shot, most Moderna vaccine recipients have a sore arm after getting the shot. About half experience fatigue for a day or two. Smaller numbers get a headache and experience other short-term symptoms like muscle aches. About 4% develop a fever for a day or so. These are signs of the body's natural immune system responding to the vaccine so that a future infection will be fought off quickly.
More research and monitoring will be done to test for long-term effects, along with how the vaccine affects pregnant women and certain immunocompromised populations.
Takeaway: A life-saving advancement
FDA emergency use authorization is given for treatment whose benefits greatly outweighs the risks. The coronavirus has infected millions worldwide, and in the U.S., more than 300,000 have died. 
Vaccination will save lives and help our communities recover from the pandemic.
Subscribe to our newsletter
Our top headlines in your inbox
---
PHOTO OF DESIREE OTENTI BY MICHAEL GRIMMETT