Feb 11, 2020
'12 minutes to diagnosis'
Sara Stephany was congested, with a headache and earache, when she decided to check out her company's new telemedicine kiosk
"Within 12 minutes I was diagnosed," Stephany recalled, describing how the physician she consulted via streaming video walked her through use of the kiosk's thermometer, which found she was running a temperature, and otoscope, which sent live video of her ears to the clinician. 
"I walked back to my desk to pack up my things, and before I hit the lobby, I had a text saying my prescription was ready."
Telemedicine can be a time-saving option for people like Stephany suffering from minor winter illness symptoms, physicians say, noting that consulting a clinician from the comfort of your own home laptop, phone, or tablet means avoiding clinic waiting rooms potentially filled with flu-infected or other contagious patients. 
"Having a telehealth session can be helpful because you can talk about your symptoms with a doctor whether it be a cough, a congestion, runny nose or headache. These are symptoms for which telehealth can be a great fit," says Dr. Jamie Colbert, hospitalist at Newton Wellesley Hospital and medical director at Blue Cross Blue Shield of Massachusetts. "I think it is of great value, especially for people who are busy and have a lot going on with their day, since going in for a doctor's visit may take a lot of time and energy."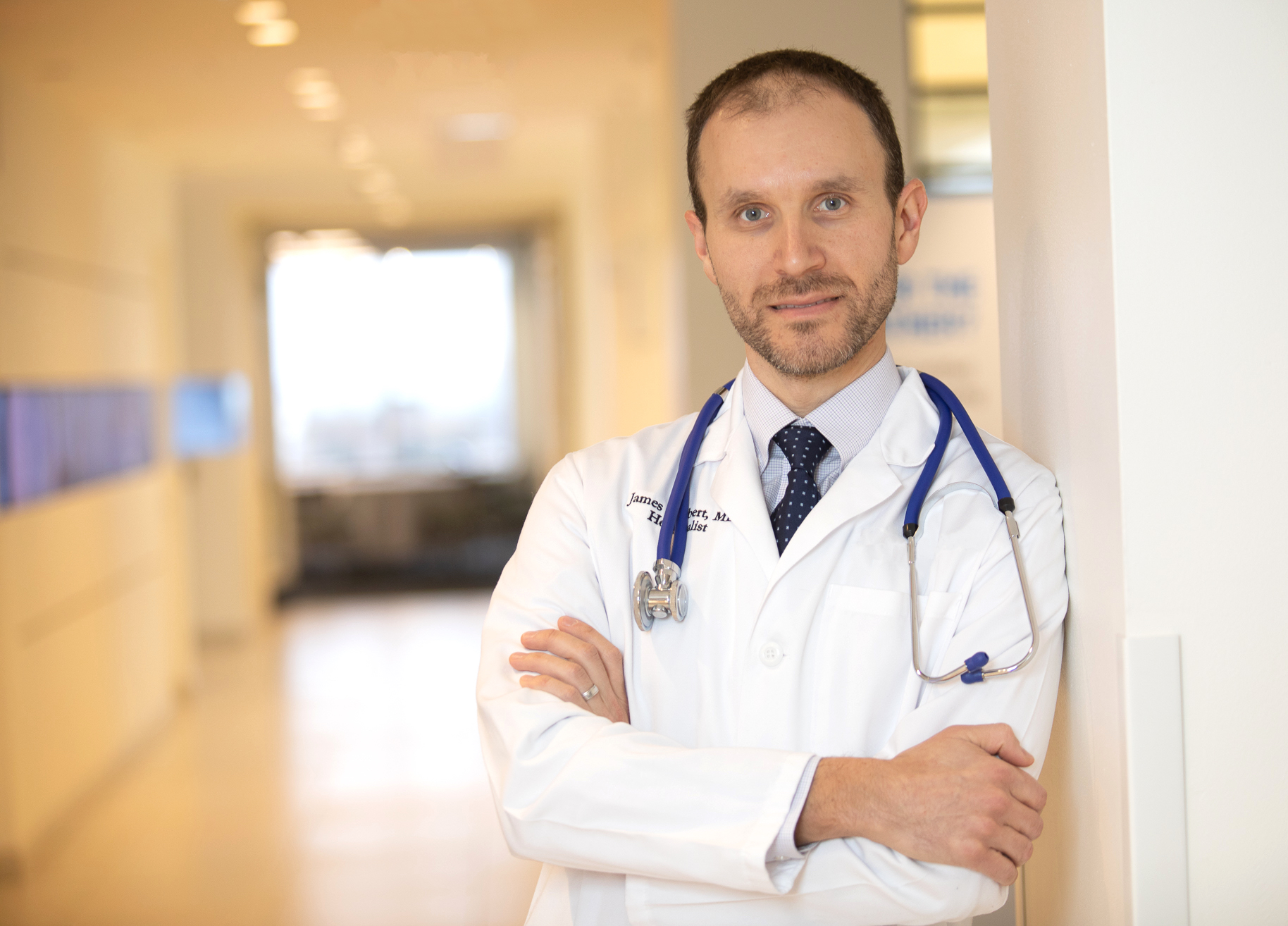 A growing trend
Health plans, including Blue Cross, have long offered 24-hour care lines staffed by nurses who can offer guidance on health questions by phone. Telehealth, which takes advantage of newer technology to allow patients to consult a licensed clinician via remote video conference online, is growing in popularity.
---
A recent analysis of 28 billion commercial insurance claims found telehealth use jumped 53% from 2016 to 2017.
---
Many health plans, including Blue Cross, offer the option to purchase access to telehealth services. Telehealth is used for both medical and behavioral health diagnoses, said Greg Santamaria, program manager with Blue Cross Blue Shield of Massachusetts' provider technology solutions. 
"For medical, the top diagnoses are for things like sinusitis, acute upper respiratory infections, acute cystitis, conjunctivitis, influenza and rash. These will naturally fluctuate throughout the year depending on the season," Santamaria said.
By far the most common diagnosis for Blue Cross telehealth users is sinusitis, an inflammation and congestion of the sinus passages often caused by respiratory viruses. The condition often can be treated with sinus flushing, nasal spray and other simple measures, and usually does not require an antibiotic. 
"There are a lot of viruses that can cause respiratory illness. Most of the time it doesn't require any particular antibiotic or other prescription, nor does it require testing. In these cases, telehealth is a good fit," Colbert said. "On the other hand, if there are particular warning flags or symptoms like multiple days of fever, difficulty breathing, pain, or swelling, that might be a scenario where an in-person, physical exam is required."
Rising use during the coronavirus outbreak
Telehealth cannot currently be used to diagnose the coronavirus. However, by allowing patients to access clinicians for other health issues while avoiding crowded hospitals or public transit. it may be one practical measure "that can help limit exposure by reducing exposure in community settings," noted Dr. Nancy Messonnier, director of the CDC's National Center for Immunization and Respiratory Diseases, in a press conference on the coronavirus on Feb. 26. 
China, where the bulk of coronaviurus cases have occurred, has vastly expanded its use of of telehealth during the epidemic. Relatively healthy members of the public are able to avoid doctor's offices and get their medical needs met online. 
"As they cleared these giant hospitals to make space for overwhelming numbers of covid-19 cases, they moved a huge amount of the routine provision of medical services onto online platforms and other mechanisms that they've really come to a cutting-edge with," said Bruce Aylward, a senior WHO official who led a recent mission to China. 
Many health insurers, including Massachusetts' largest, the not-for-profit Blue Cross Blue Shield of Massachusetts, are waiving all out-of-pocket costs for all telehealth treatment during the outbreak. In an indication of the demand, as of April 13 this year, Blue Cross has seen more than 250,000 claims for telehealth since the policy change on March 16, a massive increase over the 2019 average of 3,500 claims monthly.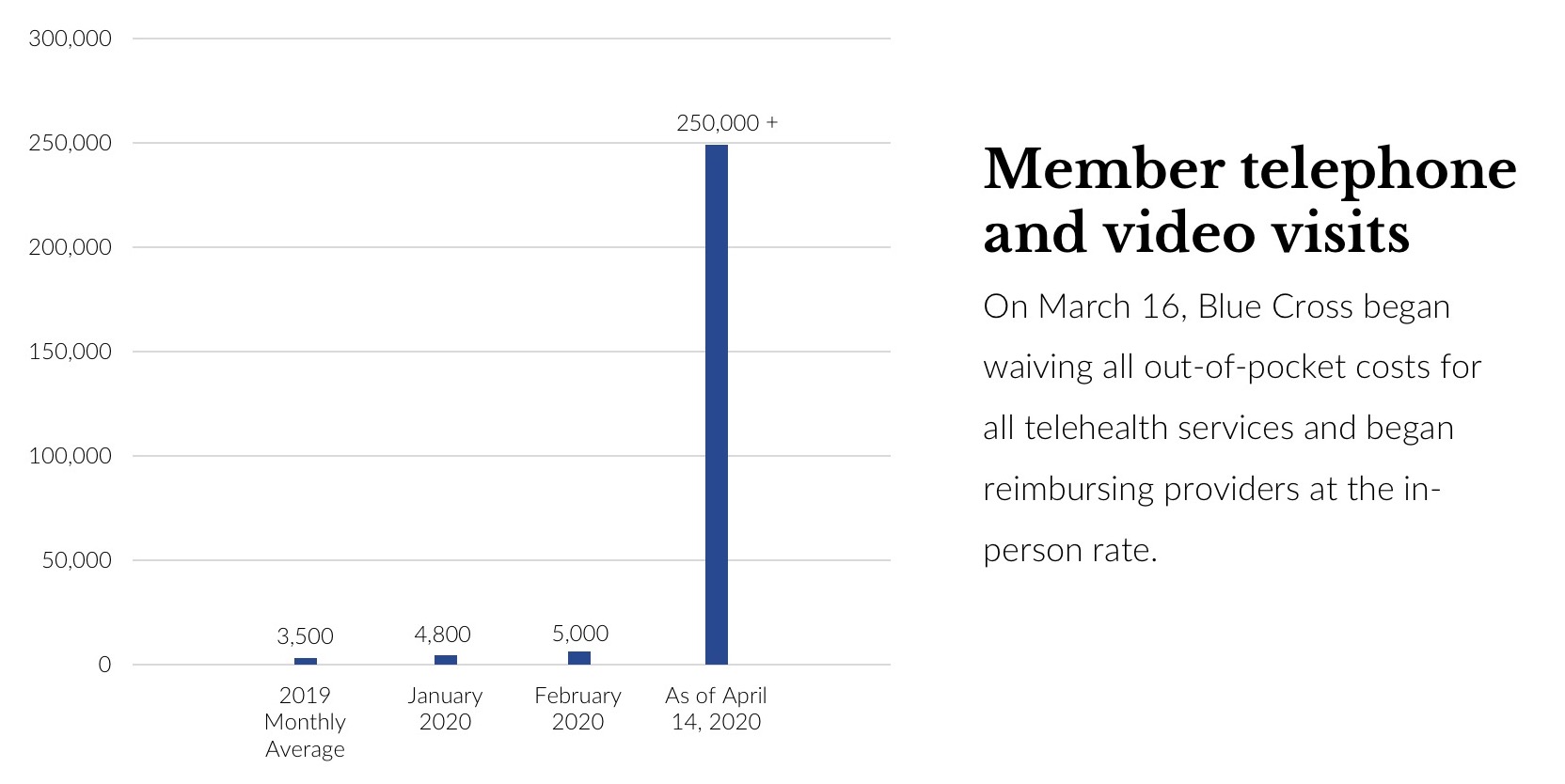 Blue Cross also offers a 24/7 nurse hotline (888-247-2583), which is available free to all members and offers a safe and convenient clinical resource for minor ailments or questions.
A convenient option
The average wait time for Well Connection, the telehealth app offered by Blue Cross, is 8 minutes, in contrast to a trip to a clinic or doctor's office, Santamaria noted. That's a boon to busy adults. 
"I always envision a mom that forgoes her care a lot since they put the health of her kids before her own. If they have a household full of sick kids, telehealth can be of tremendous value to them as a family," said Maria Cecilia Coloma, Blue Cross senior manager of provider technology solutions.
The service, Santamaria noted, also is useful to college students, who can access care quickly via their phone or computer, even when away from their primary care doctor. 
Some telemedicine services allow students to conference in a parent or guardian during a telehealth video consultation.
Travelers also may find telehealth helpful.
"This is much more convenient than trying to identify an urgent care center or the location of your nearest emergency room in a region or area you are not familiar with," said Blue Cross Blue Shield's senior product development manager, David Boudle. "The same goes for a person who is new to an area. They may not have had the time or inclination to identify a local primary care physician to consult for a minor health issue. For them, telehealth is a nice alternative." 
Many telehealth consultations are held via video using a desktop or mobile app, but some companies have begun offering the more comprehensive diagnostic tools Stephany used at her workplace, Blue Cross' Boston office.  
Boston-based American Well, which partners with Blue Cross and other health plans, deploys its kiosks in grocery stores, community health centers, and employers' offices, including at three of Blue Cross' Massachusetts buildings for use by employees.  The health plan is offering the kiosks to large employers as an add-on to telehealth benefits.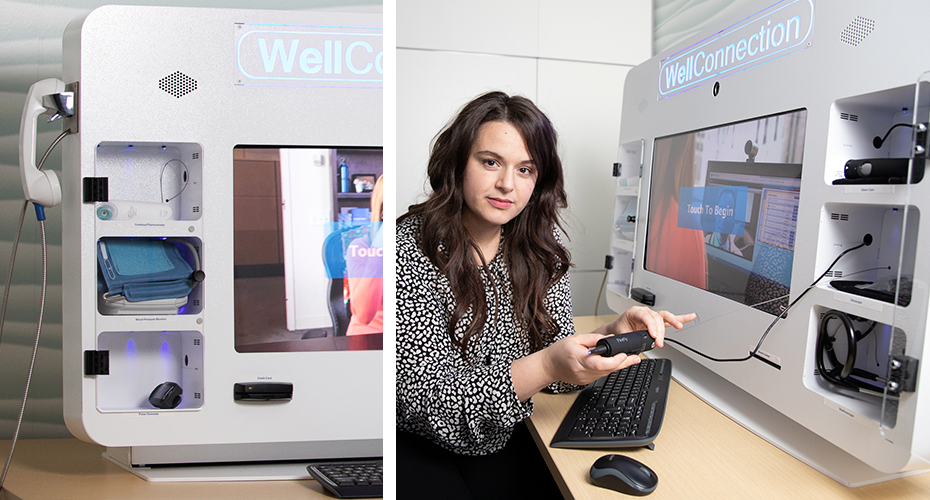 The kiosks feature a touch-screen that connects patients with licensed physicians, as well as devices that allow a clinician to do an examination remotely: a pulse oximeter to measure blood oxygen level, a thermometer, a stethoscope, a blood pressure cuff, dermatoscope to examine skin conditions, an otoscope to examine ears, and a scale. 
"If not for the kiosk, I would have waited weeks to get checked out," Stephany said. "I have a 2-year old, and life just gets in the way. Telehealth is now changing the way my whole family gets care, for the better."
Did you find this article informative?
All Coverage content can be reprinted for free.
Read more here.
---
PHOTOS BY MICHAEL GRIMMETT