Jan 29, 2020
What we know about the new coronavirus 
Note: This article is updated by the Coverage team on an ongoing basis as new information becomes available. Contact Coverage if you have questions about the coronavirus you would like to see addressed by our reporters. Subscribe to our newsletter to get our headlines weekly in your inbox.
---
Physicians are urging the public to be rigorous about sanitary measures, remain calm, and get the flu shot as the coronavirus spreads in Europe, Asia and the Middle East. 
The virus, which has been named covid-19 by the World Health Organization, causes mild congestion, sore throat, headache, fatigue or fever in some, but can lead to severe respiratory illness, including pneumonia and lung lesions. As of Feb. 27, more than 82,000 people have been diagnosed in 37 countries --the vast majority in China -- and more than 2,800 deaths have been officially reported. Most fatal cases were among elderly people with other health conditions, such as heart problems.
The virus is likely to spread to communities in the United States, the Centers for Disease Control and Prevention said Feb. 25.
"It's not so much of a question of if this will happen in this country any more but a question of when this will happen," said Dr. Nancy Messonnier, director of the National Center for Immunization and Respiratory Diseases.  
Public health officials cannot yet estimate whether the spread  will be mild or severe, Messonier said.  
"We are asking the American public to prepare for the expectation that this might be bad," she said.  
"This is an unprecedented, potentially severe health challenge globally," Secretary of Health and Human Services Alex M. Azar, told a Senate committee the same day, as the virus spread in Italy, South Korea, Japan and Iran. 
On Feb. 26, the CDC confirmed the first case in the U.S. of a patient who had not traveled to China or been exposed to another patient, in a potential instance of what is known as "community spread," the spread of an illness for which the source of infection is unknown.
"This case was detected through the U.S. public health system — picked up by astute clinicians," the CDC said in a statement. The origin remains under investigation.
One case has been confirmed in Massachusetts, where "the risk to residents remains low," according to the state Department of Health, which has set up its own website to provide information on the virus. The Boston Public Health Commission also has set up a website to provide up-to-date facts. 
---
Read more about the Massachusetts case. 
---
Simple steps can help stop the spread of respiratory viruses, said Dr. Jamie Colbert, hospitalist at Newton Wellesley Hospital and medical director at Blue Cross Blue Shield of Massachusetts.
"Wash your hands often with soap and water for at least 20 seconds, and avoid touching your eyes, nose and mouth," Colbert said. "Avoid close contact with people who are ill, stay home when sick, cover your cough or sneeze with a tissue or the crook of your elbow – never your hand. And when you travel, keep air circulating in front of your face by using the overhead vent."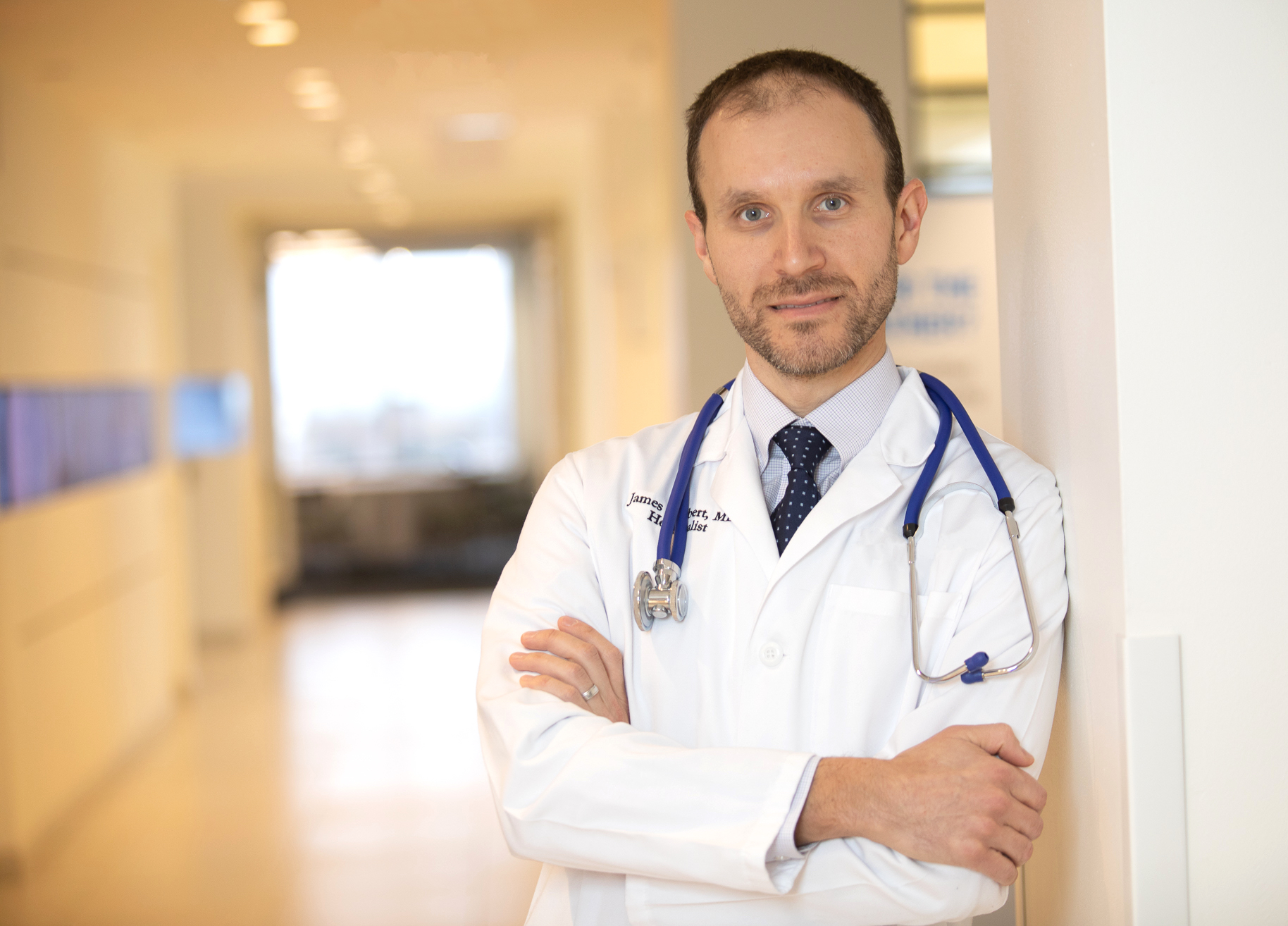 One other important step the public can take: Get the flu vaccine. 
Although it cannot protect against covid-19, the safe and effective shot prevents the common flu virus – and will shield anyone who is exposed to coronavirus from having to battle two viral infections at once.
"The flu is having much more of an impact on the health of Americans right now versus this coronavirus," Colbert said. "We're talking tens of thousands of deaths in the United States from influenza, hundreds of thousands of hospitalizations and millions of illnesses each year." 
In an average year, more than 35,000 people die of the flu in the U.S. 
Any vaccine for covid-19 is expected to take at least a year to produce. 
In the U.S., there have been confirmed cases in Massachusetts, Washington, Wisconsin, California, Arizona and Illinois.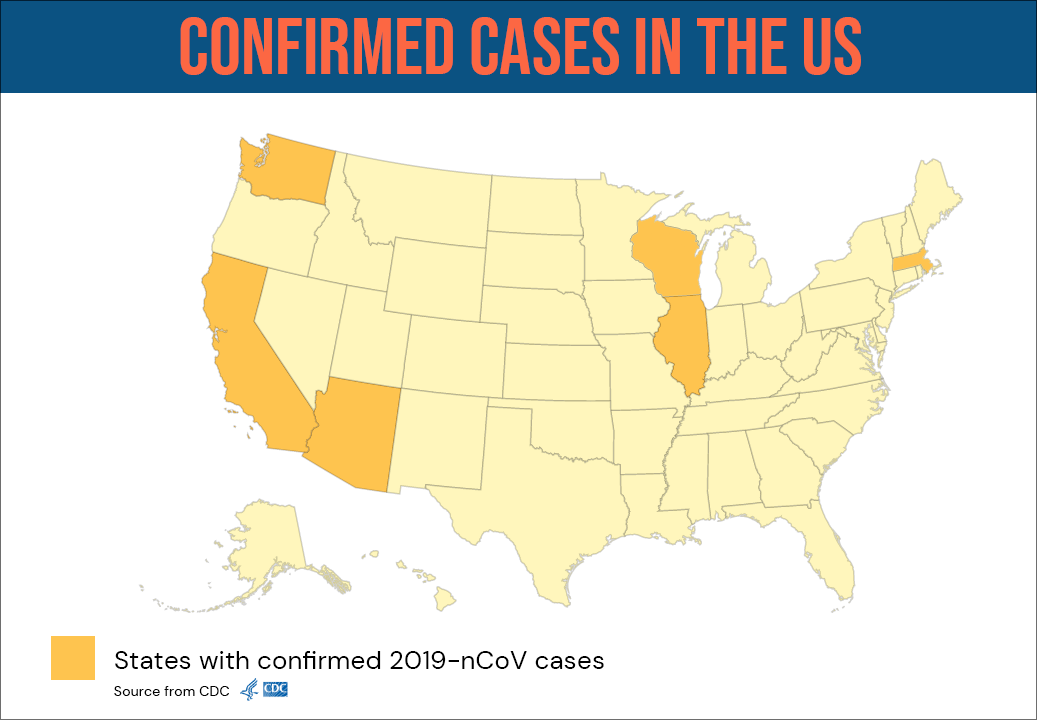 Preventing the spread
"Stopping the spread of this virus both in China and globally is WHO's highest priority," said director-general Dr. Tedros Adhanom Ghebreyesus of the World Health Organization, which on Jan. 30 declared the epidemic a global health emergency. Based on the declaration, countries decide whether to close their borders, cancel flights, screen people arriving at airports or take other measures.
The CDC has issued a Level 3 travel advisory for China and South Korea, advising travelers to avoid all nonessential travel to the two countries. On Feb. 26, the centers issued a Level 2 advisory for Japan, Iran and Italy, recommending that older adults and those with chronic medical conditions consider postponing nonessential travel.
The Trump administration has imposed temporary travel restrictions that bar entry into the United States by any foreign national who has traveled to China in the past 14 days, with the exception of immediate family members of American citizens and permanent residents.  Any U.S. citizen who has been in the Hubei province of China within the past 14 days will be quarantined for up to 14 days.
All flights from China to the U.S. are being routed to certain airports temporarily, and none are currently landing at Logan International Airport in Boston. The CDC and U.S. Customs and Border Protection are implementing enhanced health screenings at the airports to detect passengers for viral symptoms. 
There are currently 60 confirmed cases of covid-19 in the U.S., according to the CDC, including 42 people who contracted the virus on the Diamond Princess cruise ship in Asia before being flown home. Patients are being isolated and treated.
Only at-risk people should talk to their doctor about potentially getting tested for the virus, under guidelines set by the CDC. The CDC currently considers people at risk only if they  have traveled o China in the 14 days before the onset of symptoms or have been in close contact with a person who is being tested for covid-19. 
"We don't want people who don't fit the exposure-risk criteria to show up at their doctor's office asking to be tested," said Dr. Katherine Dallow, vice president of clinical programs and strategy at Blue Cross Blue Shield of Massachusetts. "Blanket testing could overwhelm the testing process and delay lab results on specimens from those truly at risk of exposure." 
What is a coronavirus?
Coronaviruses are a large family of viruses that are common in some species of animals, including camels, cattle, cats, and bats.It is rare, but animal coronaviruses can infect people and then spread between people.  Middle East respiratory syndrome, or MERS, and severe acute respiratory syndrome, or SARS, are other examples of coronaviruses that can infect people. The virus is named for the crown-like spikes along its surface that can be seen under a microscope.
"The thought is that this will behave similar to other viruses and is transmitted via respiratory droplets," said Colbert.  
The symptoms of covid-19 at first look like those of many other less serious infections. 
"We're still trying to understand, beyond just the symptoms you can get with many viruses -- fever, cough, shortness of breath -- what is different about this virus that makes this respiratory illness more severe," said Colbert. 
Colbert noted the global health community comes together quickly and collaboratively to investigate such viruses. 
"What's amazing is if you compare the experience with SAR, with MERS, with what used to happen 20, 30, 40 years ago, we're much more able to respond to do the research to understand how these viruses behave," he said. 
---
Travel insurance
For anyone who gets sick on the road, travel insurance can provide help. Companies such as Geo Blue, whose plans are sold by Blue Cross, can provide health care coverage and access to providers for travelers virtually anywhere in the world. 
GeoBlue offers medical, prescription drug, and evacuation coverage, with service 24/7, 365 days a year and 100% coverage for sick visits, emergencies, hospital stays, and more. Plans for single trips start at $5 a day, and plans for multiple trips start at $120 a year, with some plans offering up to $1,000,000 for medical coverage and up to $500,000 for medical evacuation.
---
Did you find this article informative? All Coverage content can be reprinted for free. Read more here.
---
PHOTO OF DR. JAMIE COLBERT BY MIKE GRIMMETT