Mar 16, 2023
As a community, we need to talk more about mental health
Tanairys Cruz loves many things about her Latino culture—the food, the music and the vibrant traditions.
There's just one thing she would change, says the 37-year-old Brockton, Mass., mother of three. 
"Traditionally, in our culture, we don't talk about mental health," she said. "We need more support to know that we don't have to struggle with these issues alone." 
Cruz hopes that sharing her mental health journey will help combat stigma and encourage others—particularly those in the Latino culture—to seek help.
---
Watch the video here:
---
Her story
A few years ago, Cruz was a happy, healthy mother of two, when her life changed in an instant. 
"Shortly after I found out I was pregnant, I experienced a trauma that triggered depression and anxiety," she said.  
She decided to try therapy, but when her doctor recommended medication as well, she was reluctant.
"Even though my doctors assured me it wouldn't hurt my baby, I didn't want to take medication," she recalled. "I was scared I would become addicted or experience negative side effects, and I worried what others might think. I didn't want to be the kind of person who took medication for mental health." 
After Cruz gave birth, her symptoms worsened. She started having persistent thoughts that someone was going to hurt her daughter, and she couldn't sleep at night.
"One night I stared at the ceiling for three hours. After that, I knew I needed to get help," she said.
Cruz agreed to try a small dose of an antidepressant and believes it's the best thing she's ever done for her health. 
"Now, I don't have constant anxious and scary thoughts, I'm sleeping better and overall I'm just happier. Most importantly, I'm able to be a good mom to my kids."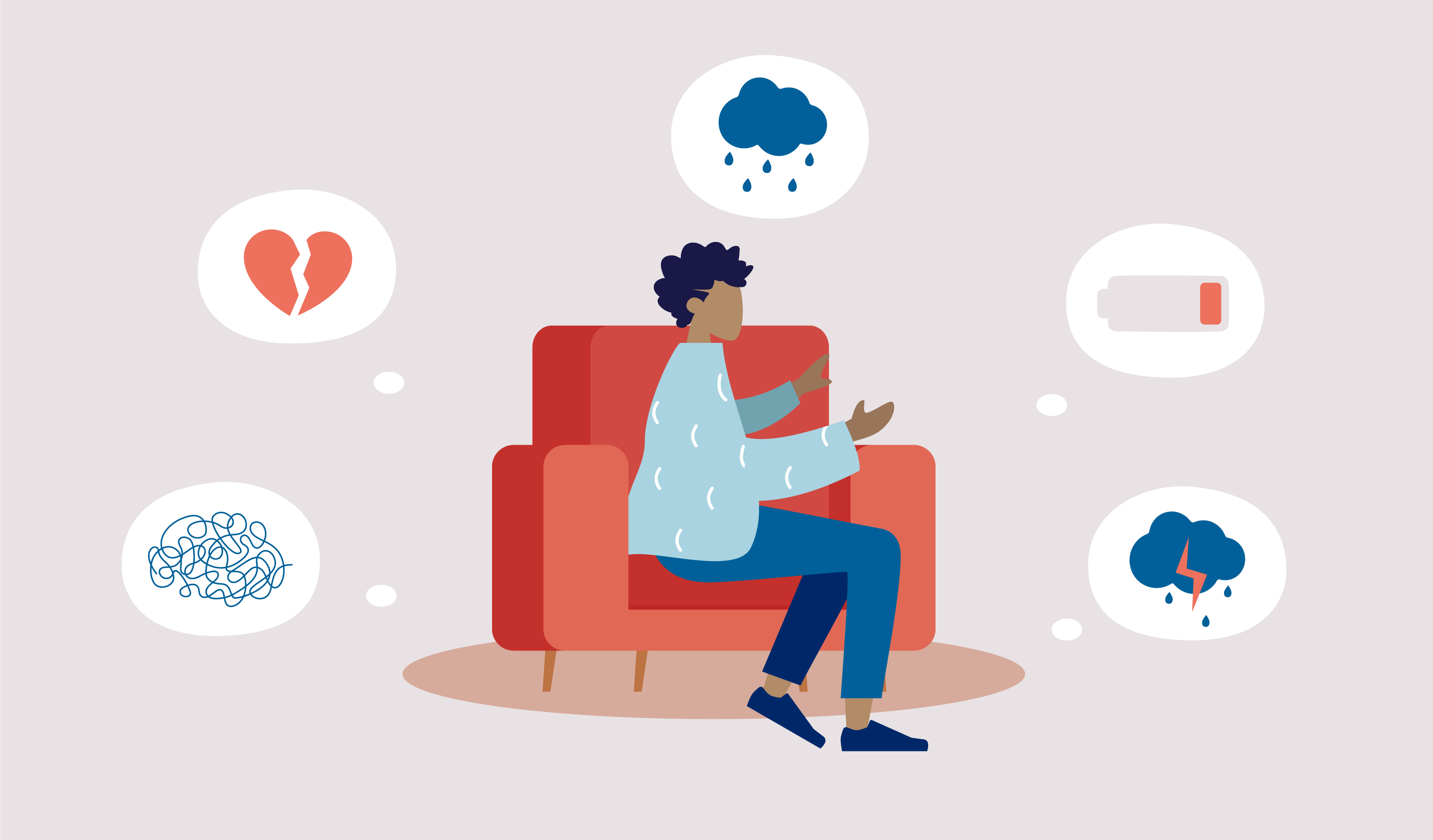 Common conditions
Cruz is one of millions of Americans who has experienced anxiety and depression. 
Anxiety disorders are the most common mental health issue in the U.S., affecting 1 in 5 adults. Depression is the second most common, affecting nearly 1 in 10 American adults and almost 1 in 5 adolescents and young adults.
Anxiety and depression result from a complex combination of genetics, brain chemistry, personality and life events, said Dr. Ximena Sanchez-Samper, a Blue Cross Blue Shield of Massachusetts psychiatrist.
"Most importantly," she said, "both are highly treatable."
I encourage anyone who is experiencing concerning symptoms to speak with their doctor about treatments that could work for them

said Dr. Ximena Sanchez-Samper
You may benefit from help if you are experiencing symptoms including the following: 
Being less able to function at home or work. Feeling overwhelmed is another telltale sign.
Gaining or losing a lot of weight. These symptoms can be an indication of an underlying behavioral health condition. 
Experiencing issues that persist for more than two weeks. Everyone has a bad day, but if symptoms of worry, sadness or insomnia persist for two weeks, you should seek help. 
A history of experiencing a behavioral health condition in the past. Many conditions such as anxiety, depression and bipolar disorder are recurrent and can be triggered by stressful events. 
Most critically, if you have thoughts of harming yourself. The national suicide hotline—1-800-273-TALK—is available 24/7.
Improving access and equity
The state's largest not-for-profit health plan is taking steps to improve access to mental health treatment, including growing its mental health provider network by almost 50% over the last five years to a total of 18,000 clinicians.
Researchers have found disparities in health and care for members of some racial and ethnic groups across the U.S., noted Sanchez-Samper.
For example, Blue Cross data shows Hispanic members prescribed an antidepressant are less likely than white members to remain on the medication for an effective period of time. 
"Studies conducted over decades have found Hispanic adults in need of mental health care are less likely than non-Hispanic whites to access mental health services," Sanchez-Samper said.

Blue Cross is working to eliminate such inequities in the care its nearly 3 million members receive. It has begun incorporating equity measures into its contracts with four of the state's largest medical organizations, and providing clinicians with grants and comprehensive data.
Speaking up
Addressing stigma within the Hispanic community also is important, Sanchez-Samer said. 
"Tanairys is very brave for talking about her mental health struggles," said Sanchez-Samper. "I believe her courage and the courage of others in our culture who speak up about this difficult topic will lead to more conversations about mental health and more people taking action to get the help they need."
Cruz agrees speaking out is vital. 
As a community we need to talk more about mental health, and we need to share our stories.
Cruz said.
 
"I hope my story will help others reach out when they realize something isn't right. I hope it will help them talk to their doctor about therapy or medication or anything else that might make them feel better. And I hope it will help them see that struggling with a mental health issue doesn't have to be your life. With help, you can feel better."
Are you a Blue Cross Blue Shield of Massachusetts member who is looking for therapist or mental health clinician? Call our dedicated mental health line at 1-888-389-7764 or use our Find a Doctor & Estimate Costs tool to find licensed therapists. Check out more resources here.
---
PHOTOS  BY DAN McDONALD