Apr 14, 2020
Heroes on the front line: Dr. Kavita Babu  
Around the world, health care providers are on the front line of the battle against the coronavirus.
Many are struggling not only to treat a disease with no known treatment, one to which no human has natural immunity. They are also facing an unprecedented global shortage of the masks, gowns and gloves known as personal protective equipment, due to international manufacturing shortfalls in the face of the pandemic. That equipment is essential to preventing health care workers from getting infected themselves and from passing the virus to patients and to their own family members.
Doctors and nurses and physician assistants and other health care workers sign up to work long hours, nights and weeks, away from their families. But never in our lifetime have they been asked to put their own health and their loved ones' health at such risk.
At Coverage, we are giving Massachusetts doctors, nurses, PAs and NPs a chance to speak to you, our readers, in their own words. We asked that they share their simplest, most urgent messages as they fight this new virus with no vaccine and no cure, a virus vulnerable only to our common human bravery, ingenuity and compassion.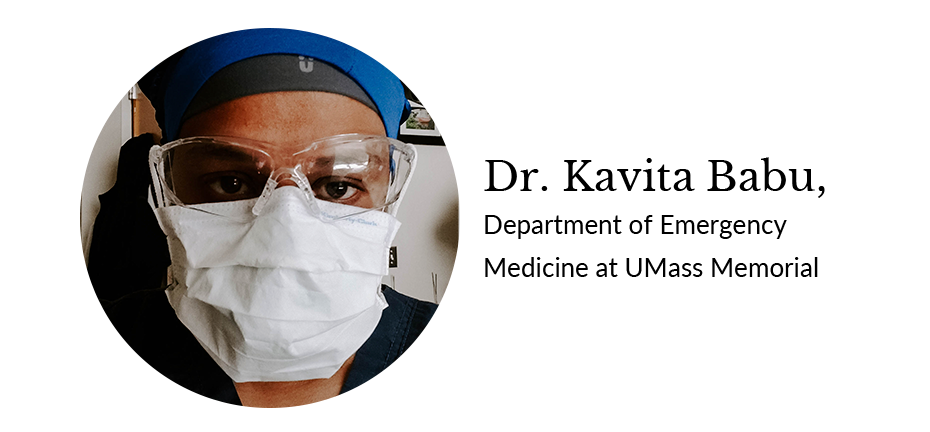 We're seeing multiple cases of COVID-19 per day, from mild illness to critical illness and death. I've been an emergency doctor for 20 years. There are so many rare things we see in the ED, but you can usually phone a friend, another doctor, who has seen it. Now we're all encountering a disease at the same time that's new to everyone. We're all wrapping brains around this new illness. It's just incredibly tragic, but we've been more collaborative in medicine than we've ever been. We all have one mission. What's disconcerting for me is my parents are living with us, and they're in their 70s. I'm so afraid of being the person who brings this home. Yes, I'm at risk, everyone is at risk. But the idea of making someone you love sick is just terrifying. The thing I'd tell people is we're in this for a lot longer than what people are talking about right now. We know from prior pandemics, there's a U-shaped curve. There will likely be a return of the disease. We should be preparing ourselves to reopen and ramp back again.
- Dr. Kavita Babu 
Attending physician in the Department of Emergency Medicine at UMass Memorial 
Chief of the Division of Medical Toxicology
Wife, and mother of two children, ages 11 and 9
More in the "Heroes on the front line" series: