May 29, 2020
Heroes on the front line: Loic Assobmo
Around the world, health care providers are on the front line of the battle against the coronavirus.
They are struggling to treat a disease with no known treatment, one to which no human has natural immunity.
At Coverage, we are giving Massachusetts doctors, nurses, NPs, PAs and other hospital workers a chance to speak to you, our readers, in their own words. We asked that they share their simplest, most urgent lessons and messages as they face this new virus with no vaccine and no cure, a virus vulnerable only to our common human bravery, ingenuity and compassion.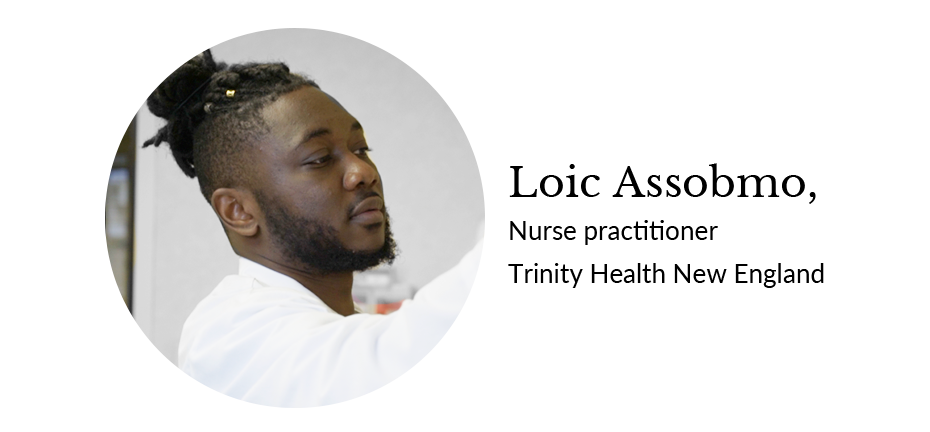 When I volunteered to serve at the fever/upper respiratory infection clinic and take care of patients who may have COVID-19, I viewed it as an honor to leverage my medical training in order to help people in a vulnerable time in their lives. Despite the many uncertainties surrounding this pandemic, our team at the FURI clinic has made it our priority to stay up to date on the latest data and research that can help us take better care of our patients. We have seen very sick patients present for care, as well as concerned family members seeking advice for how to take care of their loved ones who might be have comorbid conditions that increase their risk profiles. 
Working at the FURI clinic and seeing all types of patients present to be treated, I have seen firsthand how social determinants of health can truly affect outcome. As a primary care provider, this pandemic has exposed the importance of the work we do daily to ensure patients have stable blood pressures, good glucose control, healthy BMI etc. in order to reduce their risks of adverse health outcomes. My hope is that when things settle down, all stakeholders, including clinicians, public health professionals, politicians etc., in our healthcare system will help improve the health and social determinants of health for all Americans to ensure healthy communities and healthy people.
- Loic Assobmo 
Nurse practitioner,
Trinity Health New England,
Fever Upper Respiratory Infection clinic
More in the "Heroes on the front line" series:
Director of Environmental Services and Patient Transportation
Beth Israel Deaconess Hospital - Milton