Jun 15, 2021
Top COVID-19 News
 Amid the pandemic, news is fast-moving – and sometimes confusing. Coverage is here to help. Our new series provides a clear, fact-based digest of the top news for health consumers.

VaxMillions Giveaway
Massachusetts has become the latest state to introduce a $1 million lottery for residents who are fully vaccinated against COVID-19.  The program is part of the Baker administration's broad range of initiatives aimed at increasing awareness of the availability and efficacy of the vaccines in the state, which currently has one of the highest rates of vaccination in the country. 

How will it work? Fully vaccinated residents 18 and older can enter to win of five, $1 million cash prizes, and those who are under 12-17 years of age may enter for the chance to win one of five $300,000 scholarship grants. Residents can start entering July 1, with drawings held once a week beginning July 26, and continuing through Aug. 27.  The state will announce sign-up information in the coming weeks.

Next stop: Vaccination!
A train will serve as a rolling vaccination site this week, as part of the Baker administration's ongoing effort to increase access to vaccines. The state's new Vax Express, sponsored in part by the MBTA, CIC Health and Blue Cross Blue Shield of Massachusetts, will stop at stations in Boston, Worcester, Lowell, Lawrence, and Fitchburg, some of the communities hardest hit by the pandemic. It will offer single-dose Johnson & Johnson vaccine for people ages 18 and up, and the two-dose Pfizer vaccine for those over 12.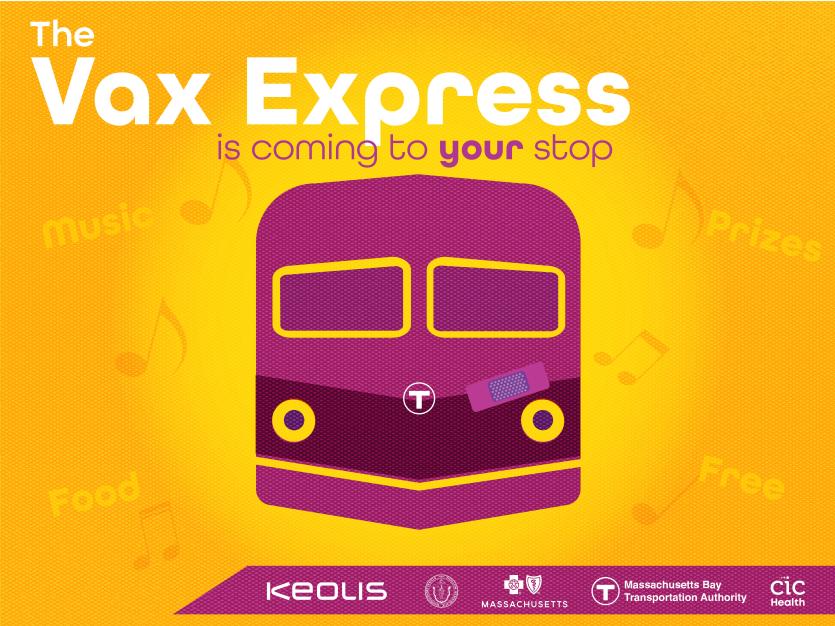 How can I get more information? The full train schedule can be viewed online. Though appointments are not required, people can book slots on CIC's website.

Promising teen vaccine results
A second vaccine might soon be available to adolescents. Moderna released data showing its vaccine was 100% effective in clinical trials in children 12-17, matching the results of the Pfizer-BioNTech vaccine, which is currently authorized for anyone age 12 and up. Teens experienced the same minor side effects as adults, such as sore arms, headache, fatigue, muscle pain and chills. 

What's the next step? Moderna has asked the FDA for broader authorization of its vaccine, which currently is used in people 18 and up.  The FDA review is expected to take about a month.

'Delta variant' spurs concern
Bucking promising trends, a more contagious and more severe variant is spreading rapidly among the unvaccinated in the U.S. and elsewhere, including the U.K.. Fortunately, current vaccines are highly protective against this variant (and all others): in the U.K., for example, more than 90% of those hospitalized with the variant were not fully vaccinated. The "Delta" strain now accounts for about 10% of cases in the U.S., and public health experts are concerned it may lead to autumn surges if vaccination rates do not increase. In recent weeks, 150 Delta cases have been identified in Massachusetts. 

How can the Delta variant be stopped? Viruses mutate into variants when their spread is uncontrolled, but every person who gets vaccinated helps stem the spread and faces less personal risk. Vaccines are free and widely available to anyone 12 or over at retail locations, pharmacies, and mass vaccination sites, as well as popup and mobile sites. To make an appointment or find a walk-up site, visit https://vaxfinder.mass.gov/.
Subscribe to our newsletter
Our top headlines in your inbox