Jan 26, 2022
Vaccines prevent Omicron hospitalizations
The current vaccines are proving extraordinarily effective in reducing the risk of severe illness from Omicron, according to the first broad survey of COVID hospitalizations in the U.S. during the latest surge.
The new data show the rate of hospitalizations among vaccinated people remaining low as Omicron swept across the country —approximately 4 cases per 100,000 vaccinated people in mid December, for instance, while the case rate among unvaccinated people skyrocketed to 91 cases per 100,000.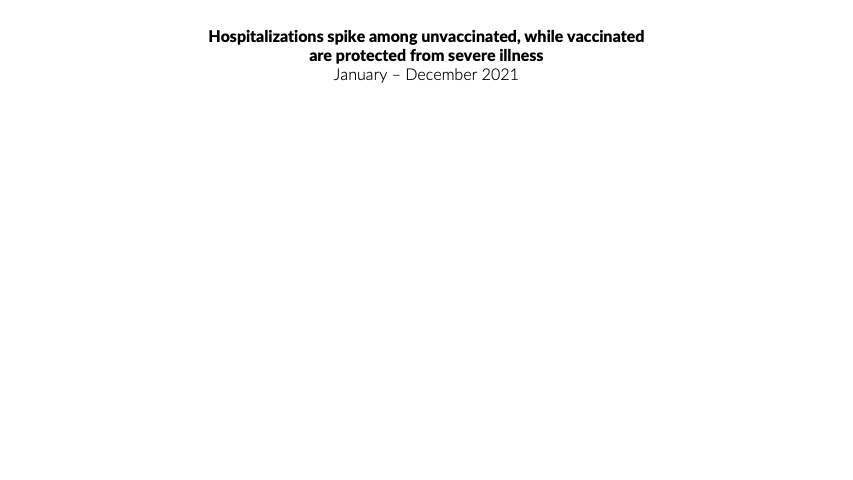 "This data shows you don't need to be too afraid of Omicron if you are vaccinated and boosted," said Dr. Jamie Colbert, an internist and Blue Cross Blue Shield of Massachusetts' senior medical director for delivery system innovation and analytics. "If infected, your illness will likely be mild – you may have no symptoms, or you may have a headache, muscle aches, a runny nose, perhaps a fever. It's still important to take precautions like masking to prevent COVID from spreading to the vulnerable and potentially developing into new variants, but personal risk is vastly reduced if you are vaccinated. Anyone who is vaccinated can breathe a sigh of relief when they look at this research."
Currently in the U.S., 99.9% of all COVID cases are Omicron infections, according to new CDC data.
Overall, in December, as the new variant took hold in the U.S., the rate of hospitalizations was 16X higher for unvaccinated adults, and 9x higher in unvaccinated kids ​ages 12–17, according to the CDC's COVID-Net. 
The data also showed the effectiveness of booster shots: Among adults ages 50–64 years, the COVID-associated hospitalization rate in December was 44 times higher for the unvaccinated than those who were boosted, and 49 times higher among adults ages 65 years and older.
The CDC recommends everyone ages 5 years and older receive a booster dose when eligible.