Jun 29, 2023
Yoga for everybody and every body
I've been a yoga teacher for eight years now, and a practitioner for 12. I love to encourage people to try it, but over the years, I've often been met with the following responses: 
"I don't have the right clothes." 
"I can't twist myself into a pretzel." 
"Yoga is boring."
Each of these responses reflects a different yoga myth.  
The truth is that yoga is one of the most accessible, exciting and beneficial forms of physical activity there is. And it's for everybody and every body.
Not-for-profit health plan Blue Cross Blue Shield of Massachusetts reimburses members for a portion of the fees they pay each year to join a full-service health club or a studio that offers in-person or online instructor-led group classes such as yoga.  
What happens in a yoga class?
Most yoga classes last from 45 to 90 minutes, and focus on three areas:
Breathing, with instruction on various inhaling and exhaling exercises.
Poses to help boost strength, flexibility and balance. These can range in difficulty, from lying on the floor or sitting in a chair, to complex balancing postures.
Meditation, to calm the mind and help you relax.
A wide range of benefits
I first got into yoga because I had chronic knee pain from playing high-school sports, and there wasn't much I could do activity-wise that didn't aggravate my knees. I figured I would give yoga a try, and I signed up for a "$30 for 30 days" special advertised at a studio in my neighborhood. 
After that month of doing some Vinyasa or "Flow" classes, I was pleasantly surprised. Not only did my knees not hurt, but they felt better. My whole body felt stronger, actually. 
I also noticed I had better balance, felt more comfortable in my own body and was sleeping better. 
My mind felt clearer, too.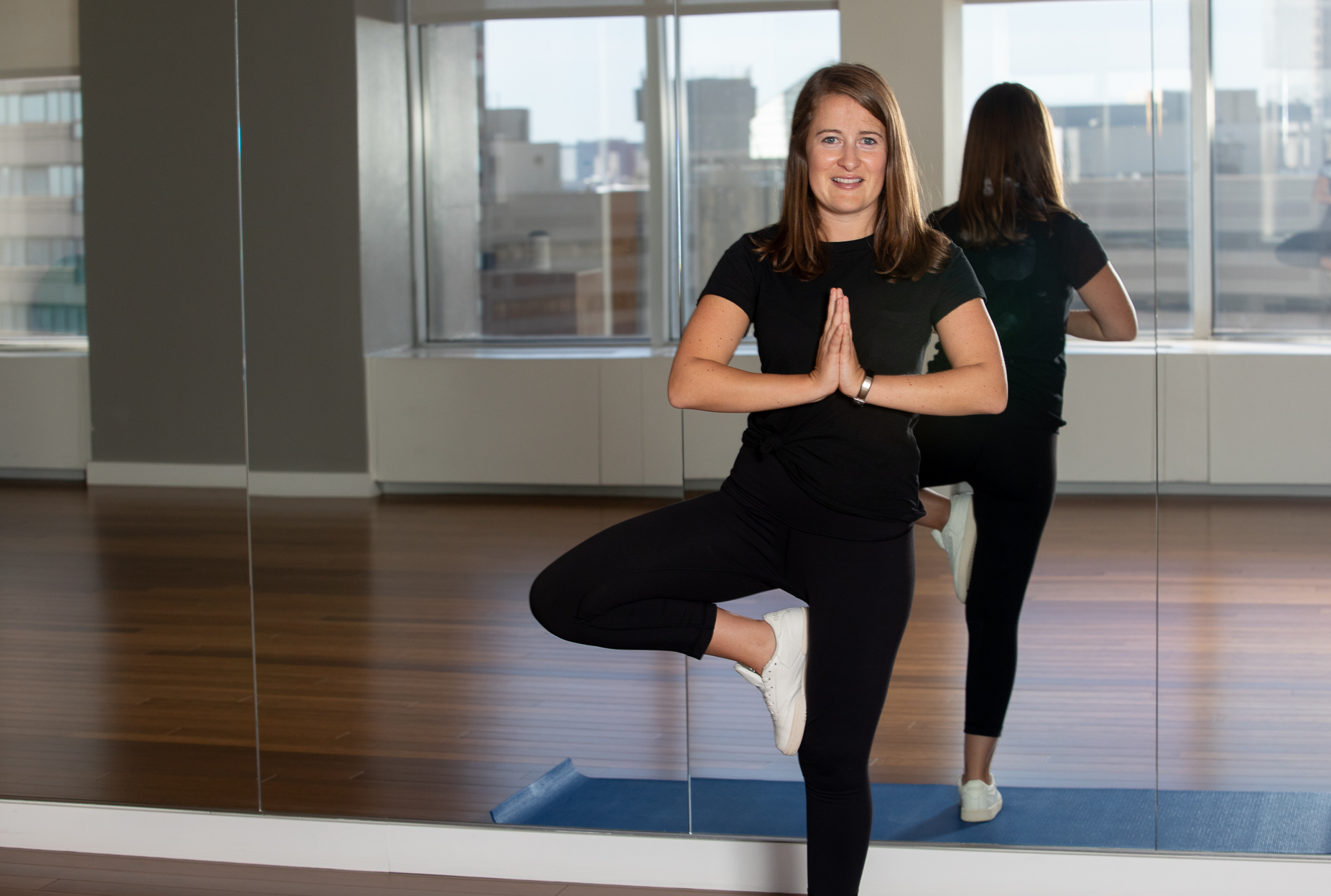 I found that I was able to use some of the breathing exercises and light movements I learned in class to calm myself down in times of stress. And the built-in pause at the beginning and end of each practice taught me how to incorporate stillness into other areas of my life—like how to pause and reflect after a difficult conversation or an intense meeting before jumping to the next thing. 
My students tell me they stay with their practice, even over the course of decades, because they notice similar benefits. 
In addition to improvements in strength, flexibility and balance, and potential relief for chronic pain such as low back pain, many find yoga is an immediate mood booster. It can help shift focus to a more positive place, which has certainly been important these past two years.
 
---
Yoga involves the entire body, from head to toe, yet it's efficient, convenient and portable. Even 15 minutes in the morning, wherever you are, can offer a great start to the day. 
---

And with more studios offering virtual classes, practicing is more convenient than ever. My students love that they can go online and do a virtual class at 7 a.m. before the workday starts, for example.
Many view yoga as a lifelong activity, and have even introduced chair yoga to older relatives. It's a practice that can continue as we age -- I've had chair yoga students as old as 96.
And the possibilities are endless 
A big myth about yoga is that there is only one kind—the kind reflected on Instagram where people in amazing shape and expensive clothes bend themselves into crazy poses.  
The truth is there are so many different types of yoga and so many different styles of teaching that everyone is bound to find something they like—whether it's a slow flow class focused on stretching and breathing, a faster-pace class with an upbeat playlist that boosts your heart rate, or a yoga sculpt class that helps you strengthen and tone.
I would encourage anyone new to yoga to get an introductory pass at a local studio and talk to someone there about which class (or two) might be best for them. Or head online—there's lots of great free content to get you started and give you a flavor of the different poses. 
Many of you might be lucky enough to have a workout you already enjoy. The good news is that yoga pairs well with other forms of physical activity.
It also integrates well into daily life. 
After a great yoga class, I promise you will leave with your body and mind ready to take on whatever comes next.  
Nicole Molano was interviewed by Rachel Coppola for this column.
Nicole is a Blue Cross Blue Shield of Massachusetts wellness program manager as well as a certified health and wellness coach and a registered yoga teacher. Have a question about wellness that you would like us to address in a column? Contact us here!