Updated 1 minute 55 seconds ago
Nov 30, 2023
Health care at home
When Robert Szymanski learned that his Medicare Advantage plan offered a yearly home health visit at no cost, he decided to sign up.
"I go to my PCP once a year, and I've been fortunate that I haven't had a lot of health problems in my life," said the 80-year-old, Milford, Mass., resident. "But I know that it's important to keep track of your health, and I figured this doctor might go over things I wouldn't think of that would be helpful."
In early March, Szymanski had a visit from Dr. Neeraj Rastogi of Signify Health, which partners with Blue Cross Blue Shield of Massachusetts to offer home health visits.
Rastogi took Szymanski's vital signs, asked about his medical history and ensured he was up-to-date on his vaccinations and vision and dental check-ups.
He then reviewed Szymanski's medications and any new or concerning health issues and ordered some tests.
Dr. Rastogi was so pleasant and informative, and he took a lot more time with me than a PCP. He did a great job, and I appreciated it
Szymanski said
"It can be hard for patients to talk to a doctor. It is my privilege to see patients and help them improve their health," said Rastogi. "I'm fortunate that I have time to educate patients about their health, including why we are doing certain tests, show them how to do things like take their blood pressure or blood sugar properly, support them in making small lifestyle changes, such as cutting down on smoking or eating healthier foods, talk with them about their mental health and generally ensure that all of their questions are answered."
Szymanski says he would encourage anyone to take advantage of the program. "It was like getting a second opinion on your health. If you are going to try to take care of yourself, you want the best information you can get, and this is a great way to get it."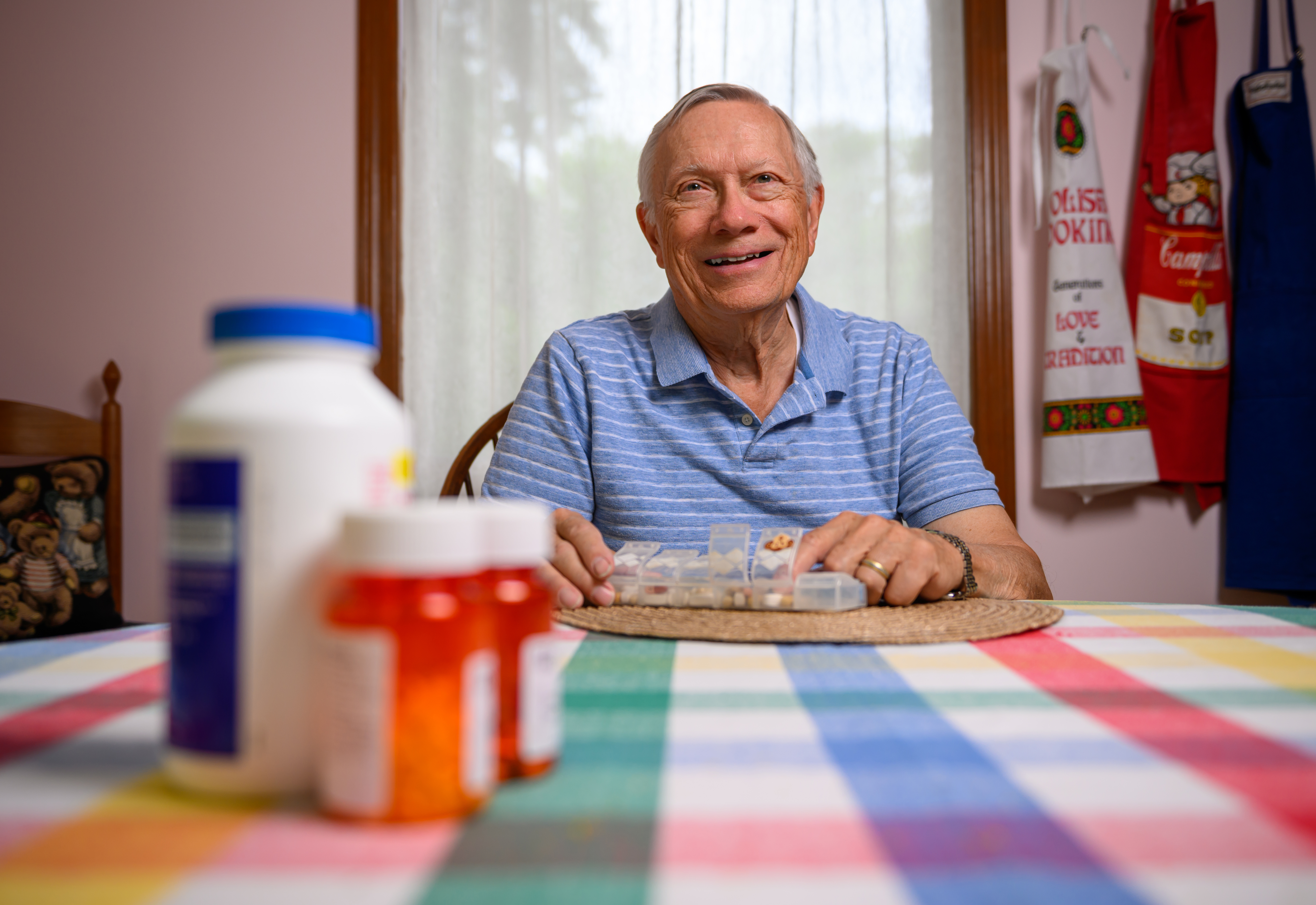 A growing trend
Home health visits are booming and are projected to continue to grow, research shows.
"One of our top priorities is to offer affordable Medicare plans that include programs such as home health visits that help members manage their health to foster a good quality of life," said Gloria Paradiso, a vice president on Blue Cross' Medicare team. 
Signify Health alone conducted 2.8 million in-home visits in the U.S. last year.
Medicine was originally practiced in the home, and it's going back there. It allows clinicians to meet patients where they are and ensure they are getting the care they need

said Signify Health Chief Medical Officer Dr. Marc Rothman.
The care Signify Health provides complements the care patients receive from their PCP, Rothman said.
"Even if you have a PCP and are doing really well, you can benefit from an in-home visit," Rothman said. "Patients are inviting us into their homes, and we work hard to earn their trust. We can see things their doctor may not be able to because we are seeing them in their own environment. We can see how they manage their conditions, how their nutrition is, how they move from room to room, all of which contribute to their overall health. We are able to take our time and do a head-to-toe assessment focused on the whole person. It's difficult to squeeze all of what we do into a regular doctor visit."
The team looks at functional, nutritional and mental health, ensures the patient is safe at home, ­­reviews medications, conducts diagnostic tests, such as A1C tests and eye exams for patients with diabetes, and makes referrals for cancer screenings and other tests.
They also identify whether patients might benefit from community resources and other programs offered at no cost by their Medicare Advantage plan, such as programs for diabetes, chronic kidney disease and meal delivery post-surgery.
After the visit, Rothman says, Signify Health sends a detailed report to the patient's PCP so they can follow up on any new or worsening issues: "We're here to serve as a support for the PCP."­
---
Did you find this story informative?
All Coverage content can be reprinted for free.
Read more here.

PHOTOS OF ROBERT SZYMANSKI BY CHRIS EVANS