Jul 27, 2020
Heroes on the front line: Dr. Pardis Sabeti
Around the world, health care providers are on the front line of the battle against the coronavirus.
They are struggling to treat a disease with no known treatment, one to which no human has natural immunity.
At Coverage, we are giving Massachusetts scientists, physicians, nurses, and other hospital workers a chance to speak to you, our readers, in their own words. We asked that they share their simplest, most urgent lessons and messages as they face this new virus with no vaccine and no cure, a virus vulnerable only to our common human bravery, ingenuity and compassion.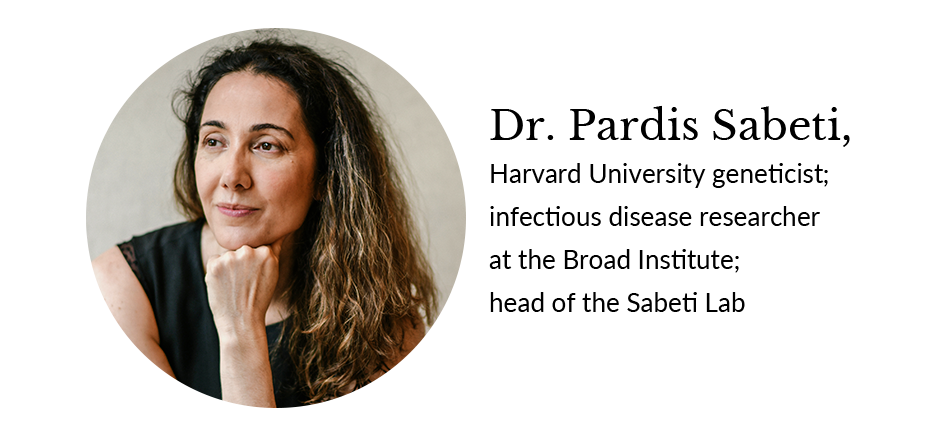 We're deep in it. It's a race against time. Though this is what I've been doing for years, now it feels like everyone is a COVID researcher. It's a massive international collaborative project. The big difference between COVID and Ebola is that it's in our own back yard. We're developing diagnostics that can be done at home, and mobile applications that do contact tracing in various ways and can help health care workers share data in real time. One thing we've developed that's unique is educational tools for pandemic response. We made an app called Operation Outbreak, where you can model all the parameters of a real virus and take the steps to fight it. The thing about outbreaks is they involve biology, medicine, public health, psychology – so many things you need to be able to know and process. You can use the pandemic to teach. Ultimately, we need to be more cooperative and more creative than ever. I think we're in for a marathon on this one.
- Dr. Pardis Sabeti, Harvard University geneticist; infectious disease researcher at the Broad Institute; head of the Sabeti Lab, which uses computational methods and genomics to understand mechanisms of evolutionary adaptation in humans and pathogens; leader of team that sequenced the Ebola genome
More in the "Heroes on the front line" series:
Assistant nurse manager,
medical intensive unit and cardiac care unit, Boston Medical Center
Are you a health care worker who would like to share your thoughts with Coverage? Contact us. 
---
PHOTOS BY FAITH NINIVAGGI