Apr 29, 2021
Combating a legacy of racism, one shot at a time
Emergency physician Dr. Ellana Stinson knows well how deep the mistrust of medicine runs among populations of color. Her own family members have told her: "I would rather stay at home and die than go to the hospital and have them kill me."
"Black people don't get the same level of pain management, Black women die at higher rates pf pregnancy-related causes, and Black newborns are more at risk," Stinson told Coverage. "The issue is that we've for so long overlooked how racism in society seeps into medicine."
Mistrust, along with access issues, has contributed to a lower rate of COVID-19 vaccination for people of color, experts say. Although Black and brown communities  have been hardest hit by the coronavirus, the national vaccination rate among white people is 1.5 times higher than the rate for Hispanics and 1.6 times higher than the rate for Black people. That trend is mirrored in Massachusetts where, as of late April, 51% of white Bay Staters had received at least one vaccine dose, compared with 35% of Black residents, 27% of Latinos, and 45% of people of Asian descent.
Taking action
Stinson is working with other clinicians of color to tackle issues of both access and trust, as medical director at the Reggie Lewis Center vaccination site at Roxbury Community College, the state's first mass vaccination site to focus on serving communities of color. 
The Lewis Center site is overseen by CIC Health in a unique partnership with a coalition including Roxbury Community College, the Black Boston COVID-19 Coalition, and other local organizations. Half the appointments at the center are set aside each week for eligible local residents.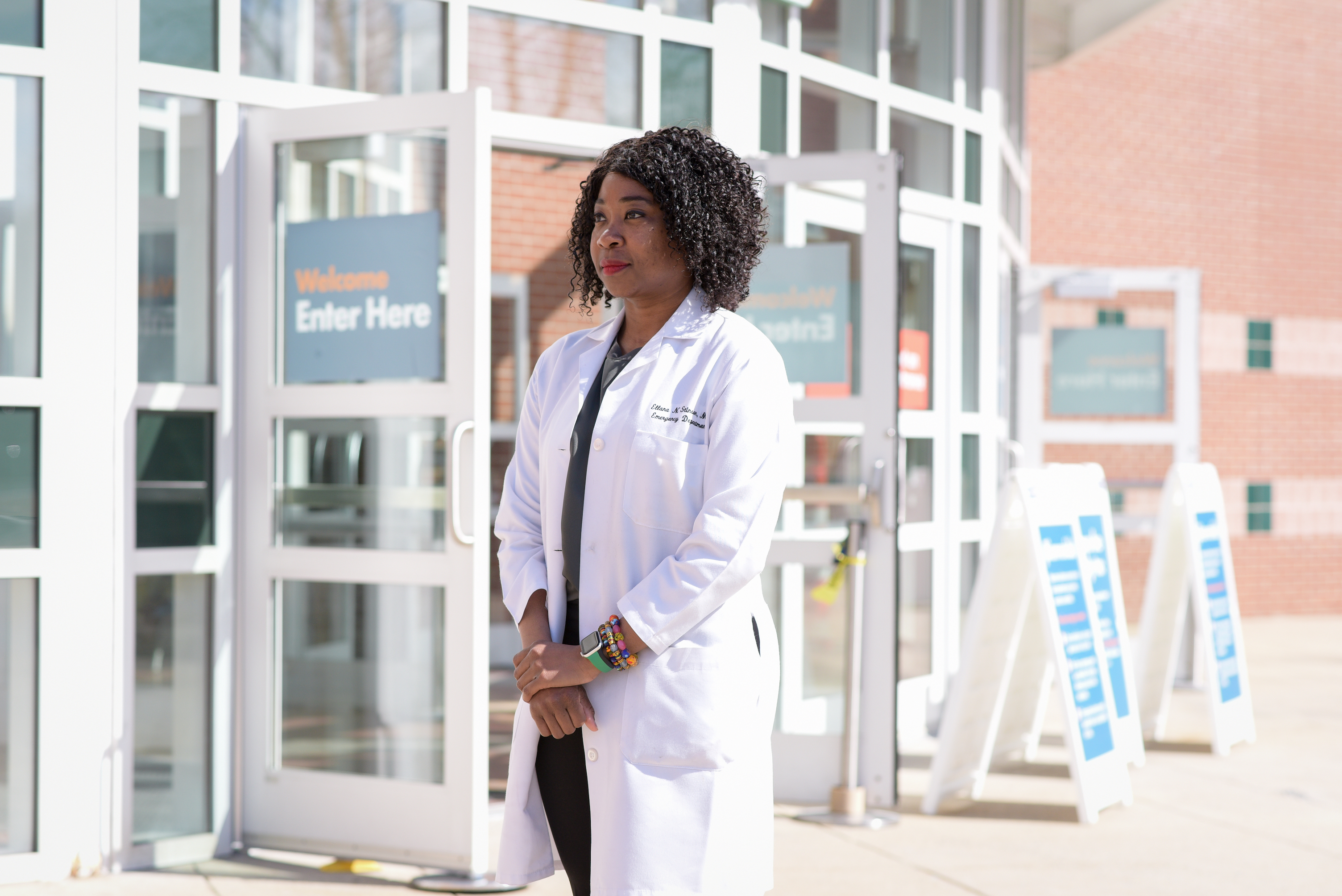 "We work hard to build an inclusive site," said Stinson, a member of the Black Boston COVID-19 Coalition, which is sponsored by Blue Cross Blue Shield of Massachusetts and other organizations.
The site is part of the state's comprehensive equity initiative to ensure neighborhoods such as Roxbury, which have been disproportionately affected by the virus, have access to the vaccines. New mobile sites have launched in some of the hardest-hit areas of Massachusetts, including Chelsea, Revere, Boston, Fall River, and New Bedford, and a new in-home vaccination service also is available to homebound residents. Blue Cross is investing $1 million to help community health center patients get free transportation to vaccination sites like the Lewis Center, and is sponsoring free Bluebikes rides to vaccination sites.
Although greater access helps, it is not a cure-all, Stinson says. 
"Health care providers must create environments where people feel comfortable asking questions," she said. And, Stinson says, people are often more receptive to medical information when someone with shared experiences is delivering it. 
Deep-rooted concerns
When reluctance among Black and brown communities is discussed, people often invoke Henrietta Lacks or the Tuskegee study as examples of historical racism in health care. But focusing only on those instances does a disservice to people who experience modern-day racism in medicine, Stinson says. And not every person of color has the same reasons for being skeptical of the vaccines.
"I think people are really concerned about what the vaccine could do to their health and bodies, and this is mostly brought on by misinformation," she says. "I think a lot of wrong information being spewed on social media is a result of many people not really knowing how the vaccines work."
There are two common concerns about the vaccines among populations of color, she says: a concern among women that it will affect their fertility, and a misconception that the messenger RNA techniques used for the Pfizer and Moderna shots will somehow lead to changes in DNA.
According to the Centers for Disease Control and Prevention, there is no evidence that any of the COVID-19 vaccines approved for use would interfere with fertility and the vaccines protect pregnant women, Stinson notes. The American College of Obstetrics and Gynecology advises pregnant women to get the vaccine once they are given the green light by their doctor.
The claim that mRNA vaccines can change DNA has persisted since before they were authorized for use. This is way off base, Stinson says. The mRNA acts as an instruction manual, telling your body to make a harmless "spike" protein, so your natural immune response is activated when it's exposed to the real virus.
DNA reside in the nucleus of the body's cells – an area never entered by the mRNA -- so genetic change is not possible, Stinson notes.  
---
Watch a nurse practitioner explain
how mRNA vaccines work
---
Building vaccine confidence
"There are multifactorial reasons that certain groups are hesitant," Stinson says. "People are really concerned about what the vaccines could do to their health and bodies."
Addressing those questions is as important as offering access to vaccines, she added. 
"We'd be remiss if we just threw up a bunch of sites and expected people to show up," Stinson says. "We can't take a one-dimensional view of how to address these issues."
Did you find this column informative?
All Coverage content can be reprinted for free.
Read more here.
---
PHOTOS BY FAITH NINIVAGGI, VIDEO BY MICHAEL GRIMMETT